Windstar Cruises- No Safe Harbor - "Unless You are Windstar"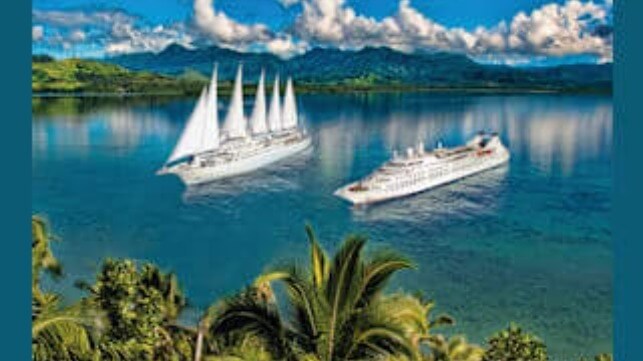 No Safe Harbor (unless you're a small cruise ship)
What's going on?
More and more ports, famed cities, and environmentally sensitive maritime areas are banning large and mega ships due to over-tourism, limiting the number of ships or even capping the number of visitors. Why is this trend happening? In some places, up to eight mega-ships bring in tens of thousands of people a day (Like this…), and many local destinations are overwhelmed, or the visitation experience is compromised. This is a major move by these destinations, given ships and thousands of guests and crew on a single ship mean revenue for the local economy.
Contrary to popular knowledge, there are small cruise ship cruise lines that accommodate around 350 guests, are almost yacht-like, and are nimble and unobtrusive enough to negotiate these ports and waterways, leaving a softer footprint on the beaches, national parks, and streets of these fabled destinations. One of these is U.S.-based Windstar Cruises.
Seven Ports and Places Where Smaller is Better (and allowed).
Dubrovnik has capped the number of cruise ships that can visit each day and has limited the maximum number of passengers to 8,000. Windstar Cruises accesses Dubrovnik, anchoring in the heart of Old town, on its Classic Italy & Dalmatian Coast itinerary aboard its largest yacht, which holds just 342 passengers.
Venice has restricted the size of vessels that can visit the port and go through the Grand Canal, the main waterway of Venice. Windstar Cruises can visit the port due to its small size and sail through the scenic Grand Canal channel. The new Best of the Balkans Venice roundtrip sailing is an excellent chance to experience the "floating city" on a 148-passenger motorized sailing yacht.
Bar Harbor has limited the number of guests monthly and daily that can visit the port (note that legal action is pending). Windstar Cruises visits Bar Harbor, and the nearby Acadia National Park, during the fall colors splendor on a Southeast Canadian Explorations itinerary with just 312 passengers on an all-suite yacht.
Key West has been looking to limit cruise ship visits, and which port berths are available.
Windstar Cruises can still access Key West on rare Miami sailings like Jungles and Jewels of the Central American Coast, aboard a 312-passenger all-suite yacht.
French Polynesia has banned cruise ships with a capacity greater than 3,500 passengers from making port calls in the country. Ships over 2,500 passengers are allowed to dock in Tahiti and Moorea; however, tiny Bora Bora allows just 1,200 cruise passengers per day. Windstar has been sailing in Tahiti for more than 35 years, and no other cruise line knows the islands, or rules, like them. Windstar's 148-motorized sailing yacht (which was tailor-made for cruising Tahiti's islands) and 312-guest all-suite yacht sail there, accessing Bora Bora, Raiatea, Moorea, and others with loads of local interaction and culture on Dreams of Tahiti.
Santorini, Greece, is limited to 8,000 passengers ashore per day. Some ships have been forced to change itineraries as a result. Windstar is still able to access this gorgeous island on Treasures of the Greek Isles with just 148 passengers sailing into the romantic harbor at a time.
Juneau is moving to only allowing five ships to dock a day, with no ship able to anchor over a certain passenger count and no "hot berthing," i.e., when two ships occupy the same berth at different times during the day. Windstar's new Scenic Alaska takes guests through the Gastineau Channel to and from Juneau on a 312-passenger, all-suite yacht that's small enough to cruise up narrow fjords, get closer to scenic shorelines, and adjust the schedule to linger when whales or other wildlife are present.



The products and services herein described in this press release are not endorsed by The Maritime Executive.