V360 Marine and Keelson Marine Assurance Announce Global Partnership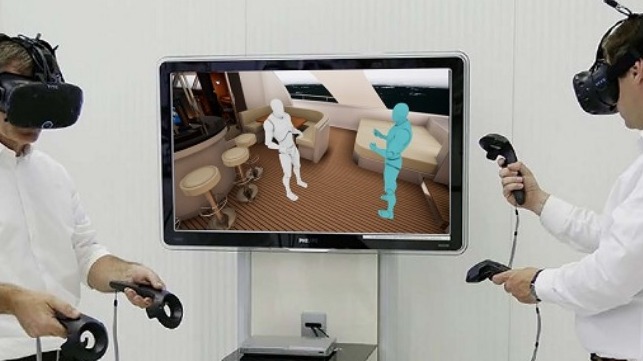 V360 Marine Ltd and Keelson Marine Assurance LLC have announced a global partnership which will see immersive technology applications developed for the maritime sector for a range of applications.
New partnership aims to foster growth using immersive technology
Keelson Marine LLC provides high quality marine consultancy to the global maritime community and has a formidable reputation for providing the highest quality, impartial and independent advice throughout the industry. Senior Partner Mat Bateman said: "We have been looking to explore the potential of immersive technology for some time, in particular Virtual and Augmented reality. Having been in talks with V360 Marine and after visiting their digital lab in Media City UK we are delighted to be partnering with such an experienced and forward-thinking company. We pride ourselves in being able to provide our services without external conflict and V360 Marine wholly compliments this and we're looking forward to being able to bring genuine positive disruption to the industry on a large scale."
V360 Marine bring to the table a wealth of experience in the marine, nuclear and construction sectors and are established at the forefront of immersive technology development and integration. CEO Sam Slater said: "We are incredibly excited to be partnering with Keelson Marine, having a shared focus of prioritizing value and quality to our clients through transparency and trust. Being able to combine the knowledge and experience from two different angles is a very powerful and rare opportunity and should bring a genuine step change in many areas of the marine and maritime industries and beyond."
Immersive technology to offer ground-breaking solutions for marine industry
The global shift to digitization and the deployment of immersive technologies is more advanced in other industries such as automotive and construction, so this newly formed partnership will present a unique platform to develop ground-breaking solutions. A taste of the output from the partnership will be showcased in October at the MTS Dynamic Positioning Conference in Houston, Texas.
V360 Marine's CTO, Rick Hooson said: "We are already underway developing two applications that will have a huge impact on the oil & gas sector, which are also adaptable to other areas of the maritime industry. Working alongside Mat and his team provides us with the ideas and technical opportunities in a fluid and agile environment – essential for effective development of commercial immersive technology applications."
Bateman adds, "The experience you get when in the VR environment and using AR applications is instant and the applications are endless. We can't wait to bring this technology to our clients and develop the cost-effective solutions this technology can lever in so many areas of our sector."
Going forward, both companies will look to introduce the technology where it is most effective and bring the most value to future clients across the maritime industry.
The products and services herein described in this press release are not endorsed by The Maritime Executive.