V.Group Makes Commitment to Growth in China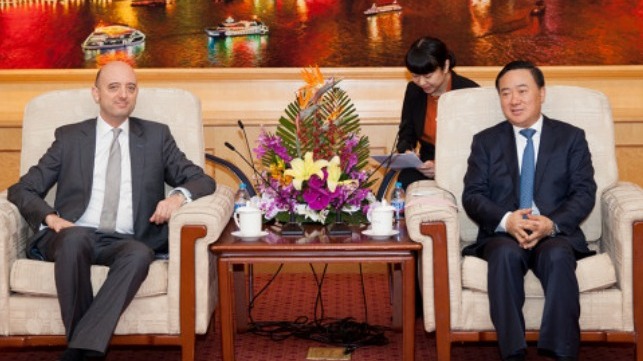 V.Group senior executives held a series of high-level meetings in China week commencing March 12 to progress the company's ambitious growth plans in both the commercial and leisure shipping segments. The tour included meetings with key players in the industry – from leasing houses to ship builders and crewing providers to state owned enterprises operating in the marine industry in China.
As home to some of the largest and fastest growing shipowners in the world, China plays a key role in the global maritime industry. Ian El-Mokadem, Chief Executive Officer, explains the importance to V.Group: "As well as spectacular growth in the commercial shipping business, China is also expected to develop one of the world's largest cruise markets so our specialist Leisure team's expertise is in high demand."
On Thursday March 15, V.Group had the honor of a courtesy meeting with Weng Zuliang, Party Secretary of Pudong Government, and a number of his senior colleagues. The meeting gave Ian the opportunity to share V.Group's long-term commitment to China and plans for continued investment in Pudong specifically.
Pictured above: Weng Zuliang (centre), with Ian El-Mokadem, V.Group's CEO to his right and to his left, Haris Kyriakopoulos (Advent International Director and V.Group Board Member). Also from V.Group – from second left, Alex Bilokon, General Manager V.Ships China, Alastair Evitt, Group Managing Director, Ship Management East and Martin Gaard Christiansen, Chief Commercial Officer.
Weng thanked the company for choosing the Pudong District of Shanghai as the location for V.Group's head office in China and pledged support to the Group's future growth plans.
The week-long visit culminated in a customer reception to formally open the new Shanghai head office, which is located in Pudong's high-profile Marine and Finance Excellence Centre. Hosted by Ian and V.Group's Chairman, John Pattullo, it provided further opportunity to highlight the Group's commitment to growth in China.
The office opening was supported by lion performers, a Chinese tradition to give the new office strength and good fortune.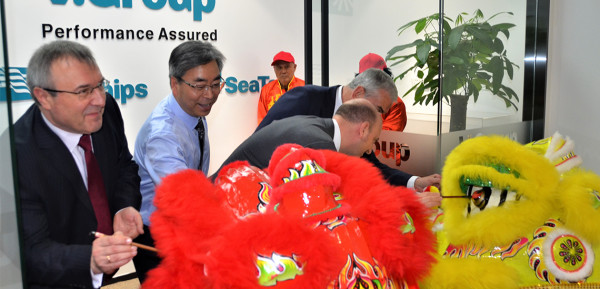 Pictured above: V.Group's Alex Bilokon, Chu Liping, Ian El-Mokadem and John Pattullo paint the eyes on the lions as part of the opening ceremony
The products and services herein described in this press release are not endorsed by The Maritime Executive.