Twin Disc Debuts New Series of Marine Control Drives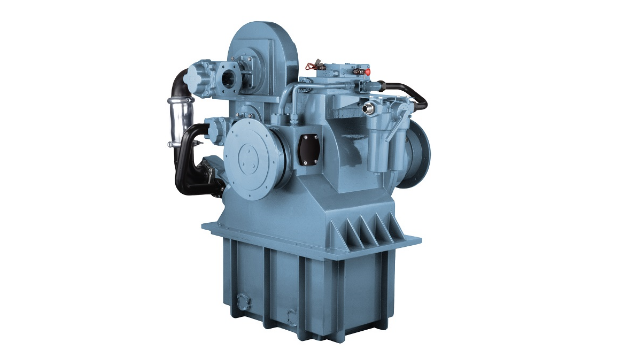 Twin Disc Inc. (NASDAQ:TWIN) pioneered the slipping clutch marine control drive (MCD) more than 30 years ago. Its newly released MCD Series builds on the company's imposing legacy of introducing the world's most innovative commercial transmission technologies. The MCD-2000, MCD-4000 and MCD-5000 are poised to make all other control drives obsolete.
The MCD Series delivers two-in-one operation, performing as a fixed ratio drive when underway and as a variable ratio drive when a power divider is required. Ideal for any azimuth drive vessel requiring highly accurate dynamic positioning (DP) or extreme slow-speed maneuvering, it provides the ability to split main engine power to another operation, such as driving FiFi pumps, lifting cargo, hauling lines or turning generators.
The latest generation of Twin Disc marine control drives, the MCD Series is a superior alternative to controllable pitch propellers. Modulated power achieves propeller speeds well below rated engine idle speed. Its unique design provides for intentional clutch slipping to precisely regulate propulsion speed.
Slip at any engine speed can be accomplished based upon specific application criteria. Twin Disc engineers will assist in customizing the control drive for the unique needs and power configuration of the vessel, including an optional high-power PTO to drive auxiliary equipment.
Ten models of the MCD Series are available in High (HD) and eight in Low (LD) Dissipation configurations. The MCD-2000 LD/HD offers a 1.20–2.00kW/rpm power factor; the MCD-4000 LD/HD delivers a commanding 2.40–3.75kW/rpm power factor; and the MCD-5000 HD provides a 3.75Kw/rpm power factor, with even higher heat dissipation limits.
HD slips up to the rated engine speed with the capability to dissipate all heat generated when power dividing. It eliminates the need for auxiliary engines.
LD slips at engine idle speed for gradual propeller speed change. This provides safer and easier vessel control during extremely slow and controlled maneuvering, DP operations and docking.
MCD Series bearings are calculated for high universal joint angles at maximum power. It provides easy, in-engine room maintenance, so there's no need for diver assistance or dry-docking the vessel. All MCDs are fitted with an emergency "come home" device per classification requirements.
Twin Disc has made workboats worldwide perform better with greater reliability and safety for over 100 years. It excels in system design consultation, application development and in-service support.
The products and services herein described in this press release are not endorsed by The Maritime Executive.