Twin Disc Acquires Veth Propulsion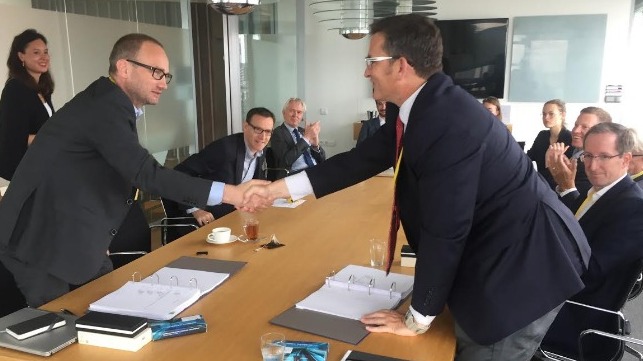 It has recently been announced that Twin Disc, Inc. has entered into a definitive agreement to acquire thruster manufacturer Veth Propulsion. As of July 2018 Veth Propulsion will officially be part of the Twin Disc Group. For over a 100 years, Twin Disc, Inc. has been a renowned international brand and therefore a strategic fit for Veth Propulsion. This acquisition will increase the global (distributor) network, the scope within the marine industry and ensures continuity.
In December 2015, Veth Propulsion selected Twin Disc as its distributor for select Asian markets, which was expanded with a North American distribution partnership in 2016. This unique and long term relationship ensured a smooth and comfortable take-over.
Strategic fit
"I deliberately chose Twin Disc, Inc. as the most suitable acquisition partner regarding the fact that the continuity of Veth Propulsion will continue in the future, "says Erik Veth, Managing Director Veth Propulsion. John H. Batten, 4th generation President and CEO of Twin Disc, adds enthusiastically: "Twin Disc, Inc. is still a family business, both companies share similar cultures based on providing customers with high-quality products and leading design, engineering and manufacturing services. A strategic expansion, which will create global market opportunities."
No significant changes
"For now I will remain as Managing Director and there will be no significant changes for our staff, customers and suppliers. We are still a down-to-earth Dutch company with a solid brand name and reputation, which values ??all its customer groups, both domestic and abroad. This will remain the same, "says Erik Veth.
Expand global market opportunities
Production and service activities will remain headquartered in Papendrecht, the Netherlands, enhanced by a worldwide sales and distributor network. This partnership creates significant synergy opportunities by merging know-how, products and brands. We increase our scale and scope within the marine industry, which provides added value to both companies, new and existing customers in the future. "I believe that Veth Propulsion's growth and success will be enhanced within the Twin Disc Group," says Veth.
The products and services herein described in this press release are not endorsed by The Maritime Executive.