Solar Solve Supplies Sunscreens for New Chinese Icebreaker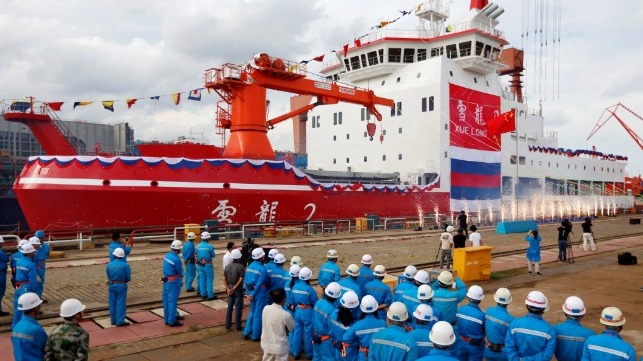 South Shields, UK based Solar Solve Marine have just dispatched a significant order of their Type Approved SOLASOLV products to a shipyard in China for installation at the windows of a very prestigious vessel.
The 52 SOLASAFE® roller sunscreens, including five that are electrically powered, will be installed at the extensive number of windows in the navigation bridge area. They will reject glare from sun and ice; infra red heat and cold air; and ultra violet light, protecting personnel and providing a more comfortable working environment.
Named Xuelong 2 or Snow Dragon 2, China's first domestically built conventionally-powered polar icebreaker was launched on 10th September last year at the Jiangnan shipyard, Changxing Island, in Shanghai. The vessel is expected to be operationally deployed by the end of the first half of 2019.
The Polar Class 3 vessel will have an operational range of around 20,000 nautical miles and can accommodate a crew of 90; it displaces 13,990 tons and is 122.5 meters long and 22.3 meters wide. The ship can reach a maximum speed of 15 knots and is reportedly capable of breaking through ice up to 1.5 meters thick at a top speed of 3 knots, moving ahead or astern, in temperatures down to -30°C.
Xuelong 2 will be equipped with advanced oceanographic survey and monitoring apparatus, enabling experts to carry out research into polar ice coverage, atmospheric and environmental conditions, as well as conduct seafloor and biological resource surveys.
John Lightfoot MBE, Solar Solve's chairman commented, "Operations Manager Carl Johnson and the team at Solar Solve have been aware of this vessel for 3 years, when we were asked during the design stage to provide a plan and quotation for the screens that would be required. Over the period our China based distributor kept in touch regarding variations even though there was no certainty that Solar Solve's bid would be successful".
He continued, "We were delighted when the official order was received and even more so when we learned how prominent and important the ship is within the Chinese shipbuilding industry. The fact that they chose SOLASOLV-UK, the global Brand Leader, when there are many cheaper copies available in China, speaks volumes for Solar Solve products and the company's world wide reputation for value, service and reliability."
Full details of Solar Solve Marine and its Type Approved brand leading SOLASOLV® and ROLASOLV® product ranges are available from the company's website at www.solasolv.com.
The products and services herein described in this press release are not endorsed by The Maritime Executive.