Report: Oceanfoil Wingsails Achieve 14 Percent Average Fuel Savings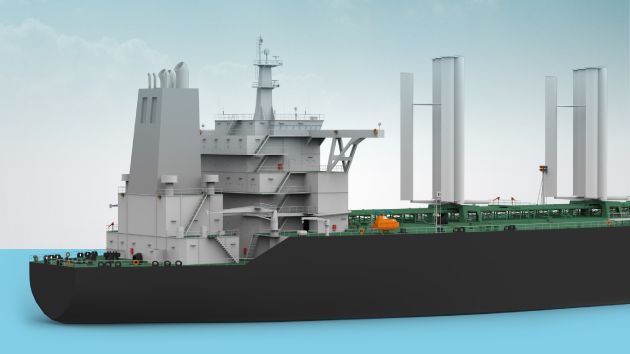 Report represents a significant breakthrough; confirming renewable wind energy for ship propulsion as a key component as shipping seeks to lower carbon footprint and save fuel costs
Analysis from leading ship designer and marine technical support engineers, BMT, has revealed that the wingsail technology, pioneered by maritime, design and technology company Oceanfoil, could achieve an average fuel consumption and emissions saving of 14% on a mid-sized tanker vessel and up to 20% in certain wind and sea conditions.

The assessment considered a system of four Oceanfoil wingsails over the course of a year on a 183 metre, 50,000 tonnes deadweight (dwt) Panamax vessel operating in the north Atlantic. The results put renewable wind energy for ship propulsion in a key role as the shipping industry seeks to lower its carbon footprint and save fuel costs.

The study identifies the thrust benefits for all wind angles around the ship and uses the average to define the Oceanfoil wingsail thrust at a given ship and wind speed; an approach that BMT described in the report as 'conservative'. Based on data taken when operating the vessel at or near its Continuous Service Rating (CSR), savings were estimated at 13% for worldwide operations, factoring marginally calmer sea states.

In common with operators of proposed autonomous vessels, Oceanfoil is in discussions with its classification society to obtain approval for its proposed advanced all-weather camera solution to provide enhanced bridge visibility, that would ensure compliance with IMO regulations.

Charles Moray, Managing Director, Oceanfoil, commented: "This report, conducted by a highly credible company like BMT, provides the basis for the first commercial trial of the aerofoil technology and we are in talks with partners that are willing to pioneer this ground-breaking technology and reap the rewards of being a first mover."

"Oceanfoil's 'wingsail', is a propulsion assist technology that is well suited for tankers and bulk carriers, which provide good opportunity for the wingsails to use the wind to create forward thrust – thus reducing reliance upon the vessel's main engines. For a mid-sized tanker like the one used for the BMT report, this would lead to savings of up to at least $500,000 per year – a huge reduction in operating expenses."

"In an industry where bunker fuel costs can account for as much as 80% of vessels' expenditure and with charterers under such strain, added to the need to future proof vessels against pending carbon regulations, the wingsail has an important role to play."

Ian Jackson, Principal Naval Engineer, BMT Defence Services, added: "As an independent provider of complex engineering and design capabilities, working with Oceanfoil's technology reflects our focus on providing collaborative design and analysis to meet the wide range of challenges the introduction of energy savings technologies for ships brings.

"These results reveal a considerable potential for wingsails, and represent an important step in the process towards wingsail technology improving energy consumption for several vessel types over the coming years. We look forward to continuing to accompany Oceanfoil on its journey."

Oceanfoil, together with its technical partners, will be pursuing its discussions with Lloyd's Register to finalise a solution to providing enhanced visibility and watch-keeping capability from a vessel's bridge in order to ensure that vessels equipped with Oceanfoil wingsails are fully compliant with SOLAS and COLREGS requirements.

The assessment was based upon four biplane wingsails fitted to the vessel; the two forward wingsails with drive wings, each 17m high and with an area of 95m2, and the two aft biplane wingsails, also with two drive wings, measuring 19m high and with an area of 107m2. The total drive wing area is 808m2.

The ship model is based on the physical specification of an actual laden ship which is currently in-service. The ship's service speed is decreased with increasing sea state so that the engine load stays on or near the Continuous Service Rating (CSR). The ship's resistance, including wave impact and rudder angle are estimated using current standard methods.
About Oceanfoil
Oceanfoil® is the maritime technology company pioneering proven aerofoil technology for the global commercial fleet. Our technology is a propulsion-assist aerofoil sail, or "wingsail", the original version of which demonstrated potential savings of up to 10% in sea trials in 1986/7. Oceanfoil®'s improved design and engineering has shown potential reductions in fuel consumption of up to 20% in Computational Fluid Dynamics testing. Our in-house expertise is combined with expert partners that enable us to deliver world leading propulsion-assist aerofoil technology that can support a new era of wind power within the shipping industry. http://oceanfoil.com/

About BMT
BMT delivers independent complex engineering and design capabilities for UK and international defence and commercial marine customers. We are focussed on supplying engineering services for the introduction of energy saving-devices for ships. This is achieved through collaborative design and analysis to meet the wide range of challenges their introduction and usage brings.

We pride ourselves on being equipped to tackle the most complex design and engineering systems issues: our expertise in ship design from concept through to design-for-build positions us as a leading independent centre for marine engineering design, support and technical services.
The products and services herein described in this press release are not endorsed by The Maritime Executive.