Regent Cruises Epicurean Explorer Tours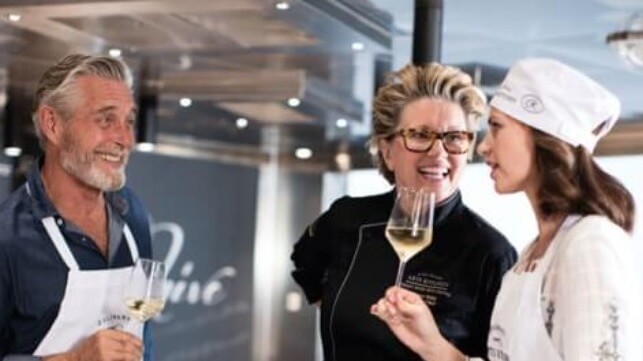 Regent Cruises Epicurean Explorer Tours and Culinary Arts Kitchen Classes Launched to Celebrate Seven Seas Explorer's® Inaugural Alaska Season

Kids Sail Free and Alaska Savings Offers Unveiled for The Most Luxurious Ship in Alaska
Regent Seven Seas Cruises®, the world's leading luxury ocean cruise line, has announced a new collection of authentic and immersive culinary experiences as part of its Epicurean Perfection program to celebrate Seven Seas Explorer's® inaugural season in Alaska.
"We are incredibly excited to offer a new collection of immersive culinary experiences to enrich Seven Seas Explorer's inaugural Alaska season," said Andrea DeMarco, President of Regent Seven Seas Cruises. "Alaska's untamed natural beauty and flourishing wildlife make it the perfect destination for multigenerational travel, which is why we offer a Kids Sail for FREE promotion along with savings on select voyages."
The three carefully curated Epicurean Explorer Tours and three new Culinary Arts Kitchen classes will be themed around the cuisine of the Pacific Northwest. Highlights on land include visiting a sustainable oyster and kelp farm, a catamaran ride through a glacier-carved fjord to a sustainable wild Alaska salmon hatchery, and plenty of opportunities to sample local delights such as seafood and artisan-crafted beers pairing lunch.
New classes on board showcase recipes from dishes found in the Vancouver, BC, and Seattle area, how to make sustainable seafood selections, and for the first time, the Culinary Arts Kitchen team, led by Chef Kathryn Kelly, Executive Chef Director of Culinary Enrichment for Regent Seven Seas Cruises, have designed a class specifically for 6–16-year-olds.
Regent has also launched offers for children aged 2-17 years old to sail for free, plus savings for travelers keen to experience the incredible destination of Alaska while sailing on board The Most Luxurious Ship Ever Built™, Seven Seas Explorer.
Seven Seas Explorer will be the most luxurious ship in Alaska with 15, 7-night sailings between Seward, Alaska, and Vancouver, British Columbia. From June to September 2023, the ship will provide the highest standards of service to no more than 746 discerning guests in exquisite restaurants and lavishly appointed suites as they explore Alaska at its wild, blossoming best, cruising the cliffs and waterfalls of the Misty Fjords, the colorful legends of Skagway, and the possibility to gaze in awe as Hubbard Glacier sheds enormous blocks of ice into the sea.
"Our new collection of culinary experiences for Seven Seas Explorer's inaugural Alaska season is rooted in topics important to our guests," said Kathryn Kelly, Executive Chef Director of Culinary Enrichment at Regent Seven Seas Cruises. "We invite our guests to explore The Last Frontier by learning sustainable fishing and aquaculture, mastering fish cooking in our hands-on cooking school, and understanding the authentic culinary traditions of the indigenous peoples and immigrants living in the majestic region of Alaska."
Highlights of the new Epicurean Explorer Tours and Culinary Arts Kitchen Classes may be found below:
Epicurean Explorer Tours
Ketchikan
Join a Chef Instructor for a visit to a family-owned sustainable oyster and kelp farm. Learn how the oysters are nurtured as they grow from thumbnail size to market size. The company is also the first in Alaska to harvest kelp, another sustainable endeavor only possible because of the bay's extraordinary water conditions. Guests may learn how conditions affect oysters and kelp by tasting them. After a visit to the farm, participants return to the Culinary Arts Kitchen for a 90-minute class covering 7 culinary techniques for flawless fish cookery at home.
Sitka
This tour is an immersion into the salmon industry in Alaska. On the way to a local fish hatchery, guests will pass many of the scenic highlights of the historic Silver Bay region. Enjoy a covered catamaran ride through a glacier carved fjord to arrive at the sustainable wild Alaska salmon hatchery for an immersion into all things Alaska salmon. The tour concludes with a seafood-centric lunch at an in-town restaurant hosted by a famed local chef.
Juneau
What's better than scenery, beer, and seafood? Regent have curated a tour in Juneau that combines a scenic tour of the surrounding beauty with a tasty lunch of local seafood paired with artisan crafted beers. Hosted by one of our chef instructors as well as a renown local chef, guests will enjoy a relaxed visit to Juneau while learning about the seafood industry and the local passion for craft beers. The tour ends with a guided tour of the local town pointing out gourmet shops with delectable smoked salmons to take home to remember an unforgettable day.
Culinary Arts Kitchen Classes
Taste the Northwest Kitchen
Offered for the first time on Regent Seven Seas Cruises is Taste the Northwest Kitchen with recipes inspired by acclaimed chefs and restaurants found in Vancouver BC and Seattle.
Master Chef Junior
For a fun twist, Seven Seas Explorer will offer a new class - Master Chef Junior - where grandparents or parents serve as sous chefs for their 6 to16 year old chefs.
Find Another Fish
To round out the Alaska season on Seven Seas Explorer, our culinary enrichment team will offer demonstrations and lectures entitled Find Another Fish, which is intended to guide guests in choosing more sustainable fish at local markets at home or at restaurants ordering a seafood or fish entrée.
Kids Sail Free and Alaska Sailings Savings
Kids (2-17 years old) Sail FREE on 6 selected cruises in Alaska for new reservations made by May 31, 2023. Luxury in Alaska offers savings of up to 20% on 12 selected sailings for new reservations made by April 29, 2023.
For more information, please visit www.RSSC.com
Regent Seven Seas Cruises is the leading?luxury?cruise line, delivering An Unrivaled Experience™ for 30 years. Carrying no more than 746 guests,?the line's spacious and?stylish?ships?-?Seven Seas Explorer®,?Seven Seas Mariner®,?Seven Seas Navigator®,?Seven Seas Splendor®,?Seven Seas Voyager®?and from?2023?Seven Seas Grandeur™?- form The World's Most Luxurious Fleet™ and explore more?than 500 immersive destinations globally.?Offering Unrivalled Space at Sea™, guests enjoy?sumptuous?all-suite accommodations,?nearly all with private balconies, which are among the largest at sea, as well as highly personalized service throughout lavish public areas?and?expansive outdoor?spaces. Unique to Regent Seven Seas Cruises, unlimited complimentary shore excursions are available in every port, making it the?only truly all-inclusive cruise line.?Voyage fares also include round-trip business-class air on intercontinental flights from the U.S. and Canada, gourmet cuisine in a range of specialty restaurants and al-fresco dining venues, fine wines and spirits, entertainment, unlimited internet access,?free valet laundry,?gratuities, ground transfers and onenight, pre-cruise hotel packages for guests staying in Concierge-level suites and higher. For more?information, please visit?RSSC.com , call 1.844.873.2381 or contact a professional travel advisor.
BACK TO 2023 NEWS
The products and services herein described in this press release are not endorsed by The Maritime Executive.