Record Oversized Cargo Transport by North-Western Shipping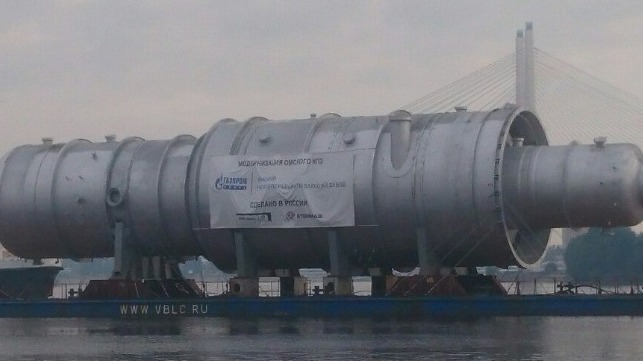 Volgo-Baltic Logistic, a subsidiary of North-Western Shipping Company (NWSC, part of UCL Holding), and Infotech Baltika successfully completed a joint project of transportation of an oversized unit intended for modernization of Gazprom Neft's Omsk Refinery.
According to NWSC, the C-201 vacuum column manufactured by Atommash in Volgodonsk was delivered by water transport between July and October 2017. The unit length is 52.3 meters, diameter - 11 meters, weight - 518 tons. The unique equipment was transported to the port of destination by NWSCo's Ro-Ro barge 2034 towed by two tugboats. The shipping company has broken its own record with an ATB unit having covered 13,300 km along inland water ways of Russia's European part, North Sea, Northern Sea Route, Ob and Irtysh rivers up to the Omsk berth.
According to the statement, another significant project of Volgo-Baltic Logistic was the delivery of oversized heavy weight equipment for ZapSibNeftekhim, SIBUR's petrochemical facility in Tobolsk. Between July and September 2017, the company carried four 360-tonne boilers, 66-meter-high washing and rectification columns weighting about 150 tons, 87-meter butene columns, extruders and columns for a polyethylene plant. 17,500 tonnes of equipment was transshipped at port Sabetta from seven ocean-going crane ships to 25 ATB units operated by Volgo-Baltic Logistic.
Taking into account that navigation in the Gulf of Ob was opened only in July, both projects were implemented within the shortest possible period of time. Throughout several decades North-Western Shipping Company has accumulated extensive experience of transporting oversized heavy weight cargo for industrial facilities of Russia and neighboring countries. The year of 2018 will see the development of new NWSCo's projects.
North-Western Shipping Company, is the largest carrier in the Russian system of waterways, specializing on the export and import shipping of bulk, general and project cargoes, towages of oversized cargo and crafts. The company provides a full range of transport services on the inland waterways of Russia and international sea traffic. The company operates a fleet of 47 river/sea class vessels, 10 sea class vessels and three Ro-Ro river-sea class barges. Total deadweight of the Company's fleet is 288,000 tons. About 70 percent of the fleet was built between 2002 and 2013. Average age of the company's fleet is 16.5 years old. The company transports about five million tons of cargo per year.
NWSC, in the name of its subsidiary - Volgo-Baltic Logistic, is Russia's leader in the segment of oversized and project cargo transportation by water transport and one of few companies able to perform unique deliveries along the Northern Sea Route to the ports of South and West Siberia. NWSC is part of VBTH - a shipping division of the international transport group UCL Holding that consolidates several Russian shipping, railway, stevedore and logistics companies. The division also comprises Volga Shipping Company, V.F.Tanker and a number of shipbuilding assets.
The products and services herein described in this press release are not endorsed by The Maritime Executive.