Port of Odense to be Expanded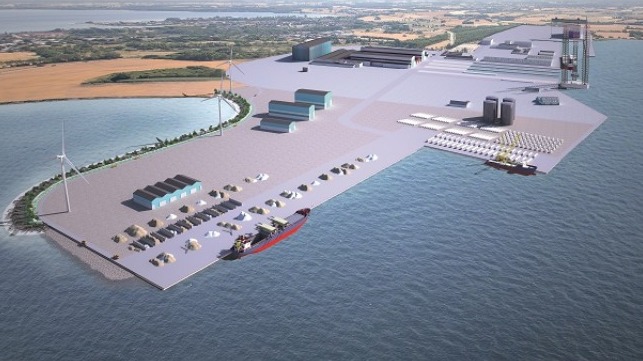 LINDØ port of ODENSE A/S and a consortium of Jan de Nul from Belgium and Züblin A/S from Denmark have signed contract for a port extension at Lindø, Denmark, involving a 400,000 square meter industrial area and one kilometer new quay. The facilities will provide the much-needed space to extend port activities within bulk goods and maritime and offshore industries.
The Consortium, known as JV LINDØ port of ODENSE, has won the tender of 350 mio. DKK. The extensive project will involve the creating of new land, one kilometer of quay and a special heavy-load area on quayside, as a unique feature on the new Terminal North at Lindø. The heavy-load area will be 30 meters wide and 100 meters long and especially suited for very large mobile and crawler cranes. All known commercially available cranes of this type can operate at max-capacity on this area. For projects this means that even for very heavy cranes and objects only basic crane mats are needed, and customers do not need to invest in extensive temporary sand beds to spread load during each project. With this heavy-load area, projects at Lindø can be serviced by the existing 1,200-ton gantry crane at Terminal South and from 2020 also by mobile and crawler cranes for projects at Terminal North.
The contractors Züblin and Jan de Nul , who will perform the project together, are excited about the cooperation with LINDØ port of ODENSE.
Chairman of the Board at Züblin A/S, Jens-Henrik Nicolaisen, states: "The cooperation with LINDØ port of ODENSE is for us an obvious continuation of the strong cooperation we already have with the City of Odense (Odense Kommune) as part of the From Street to City-project. We are happy to be able to extend this relation to include the City of Kerteminde (Kerteminde Kommune) and LINDØ port of ODENSE."
Investment in Danish ports is booming, and Züblin and Jan de Nul have great expectations for possibilities in this market. This is partly the reason why the extension at Lindø is especially interesting for the two companies.
Thomas Bentsen, Technical Director for Business Unit Ground & Civil engineering at Züblin A/S explains: "The extension of LINDØ port of ODENSE is a complex project which brings forward our competences within ground and civil engineering. Together with Jan de Nul's competences in dredging and land reclamation we have established a strong team with international expertise and local knowledge of the Danish market. As addition to our joint competences Züblin and Jan de Nul also owns the massive machinery that enables us to solve the job."
At LINDØ port of ODENSE A/S the satisfaction with the cooperation and project is clear: "Almost nine years ago we started the project of expanding the port at Lindø, and today we take a giant leap towards the finalizing by closing the full extension with one large contract," explains Carsten Aa, CEO at LINDØ port of ODENSE A/S. "We are looking forward to the cooperation with Jan de Nul and Züblin, whom we already know very well. And with full confidence in both quality and timeframe, we can now – together with our customers – move forward in planning the projects for 2020 and onwards."
The products and services herein described in this press release are not endorsed by The Maritime Executive.