Port Everglades Marine Terminal Celebrates Positive Transformations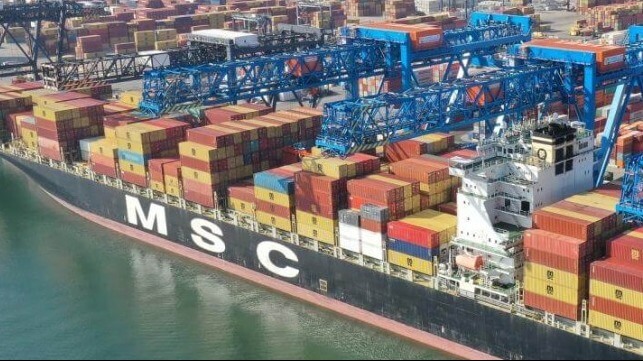 [By: Port Everglades]
This week marked a momentous occasion for Mediterranean Shipping Company (MSC) as industry leaders and stakeholders gathered with Port Everglades Terminal (PET) to commemorate the remarkable positive changes and advancements achieved through collaborative efforts. The reception at Port Everglades focused on three key aspects: the strategic move of the Santana service from Miami to PET, the ongoing improvements in terminal operations and the relentless commitment to delivering exceptional service to clients.
The relocation of the Santana service from Miami to PET stands as a testament to the commitment of MSC to elevate capabilities and service offerings. PET's upgraded infrastructure now empowers the company to handle larger vessels and accommodate higher cargo volumes, translating into more efficient and cost-effective shipping solutions for valued clients.
"The move to PET was a strategic decision to optimize our operations and meet the growing demands of our clients," said Allen Clifford, MSC's Executive Vice-President - North America. "This relocation positions us to seize opportunities and expand our service offerings, solidifying our commitment to excellence in the maritime industry."
"With the opening of the new trade corridor, our port and South Florida have a vital link to Asia allowing for more growth while our partners can benefit from a port that is efficient and provides ease of transport," said Port Everglades CEO and Port Director Jonathan Daniels. "It's through the strategic execution by Port Everglades Terminal to invest in its operations and cargo handling infrastructure that reinforces the strong relationship with MSC."
Guests at the event included Broward County Mayor Lamar P. Fisher and Laura DiBella, president and CEO of Enterprise Florida and the state's former secretary of commerce.
"MSC calling at our leading seaport comes during a time when Broward County and Port Everglades are experiencing significant growth. More than 1.9 million people live in our great county with an average consumer spend of about $51,000 per household. Nearly 17% more small businesses opened in Broward County in 2020 compared to 2005. And, all those people need furniture and other goods," Fisher said.
PET has undergone a remarkable transformation under the management of Terminal Investment Limited (TiL). With a dedicated team at the helm, significant enhancements have been made in terminal operations, leading to smoother cargo handling processes and overall efficiency improvements.
"Our collaboration with TIL has been instrumental in revitalizing PET," Clifford said. "Together, we are setting new standards of excellence and redefining PET as a reliable and efficient maritime terminal."
"Port Everglades Terminal LLC is excited to welcome this new trade lane to our facility, as it further exemplifies that the port's growth, focus and investment in additional berths and cranes are being found attractive by our customers. This service, along with our current Turkey/Greece, Caribbean, South America, and Bahama services, continues to allow Port Everglades Terminal to showcase our productivity, efficiency and customer service while never losing sight of providing a safe working environment in our container yard as well as our vessel operations," said Rick Blackmore, CEO of Port Everglades Terminal, LLC.
The pursuit of excellence does not stop with terminal improvements alone. MSC is wholeheartedly committed to delivering exceptional service to its clients. To ensure every shipment is handled with utmost care, precision, and speed, the company continues to foster close collaboration with the International Longshoremen's Association (ILA) labor partners.
"Our partnership with ILA labor is crucial to our success," Clifford said. "Their expertise and dedication have been pivotal in driving seamless operations and ensuring the utmost satisfaction of our clients."
Beyond just a physical move, the shift of the Santana service to PET represents a true embrace of innovation. With state-of-the-art facilities at PET, MSC is now equipped to implement cutting-edge technologies, real-time tracking systems, and optimized logistics, delivering an unparalleled customer experience.
"At MSC, our focus has always been on the trust our clients place in us," Clifford said. "We leave no stone unturned in our pursuit of excellence, ensuring that our promises are delivered with unwavering dedication."
Looking forward, MSC remains committed to fostering a culture of collaboration and open communication with all stakeholders. The company values the insights and feedback from partners, clients, and employees, viewing it as a crucial catalyst for growth and continuous improvement.
The products and services herein described in this press release are not endorsed by The Maritime Executive.