New OSM Operations Center Showcases the Future of Ship Management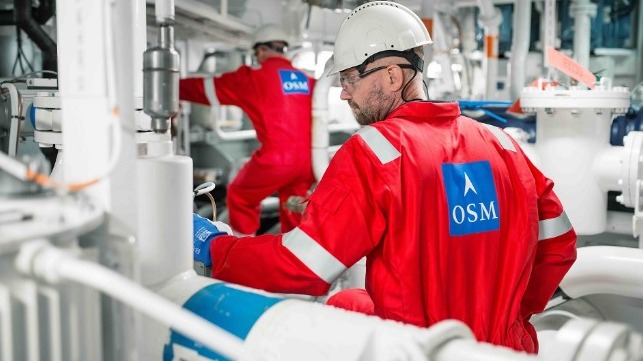 Leading ship management firm OSM is in the final stages of completing a Singapore-based Maritime Operations Centre that will transform decision-making, efficiency and performance for its global customer base, while highlighting a new, sustainable path forward for the industry.
The facility, developed in partnership with Azendian Solutions, a Singapore based analytics company, will initially allow OSM to connect all its data sources around the world. In the near future, the operations centre will not only be the main pillar of OSM's Technical Management offerings to the market, but it will also be a maritime innovation hub, with plans to develop game-changing technologies through an ecosystem of digital partnerships.
It marks, according to OSM CEO Geir Sekkesaeter, an important step forward for the company, its customers and the industry as a whole.
"The Operations Centre is enabled by a cloud-based analytics solution tailor-made for OSM," he notes. "This allows us to 'join up' all our global operations in real time, giving us full visibility, both financially and operationally, of every activity through a suite of dashboards and analytics applications. These can be accessed anywhere in the world, from any device, by any decision maker, empowering them to make optimal decisions at all times."
"This creates transparency throughout the organization and, through big data utilization, allows us to identify trends, predict issues and take actions that deliver safety, efficiency and cost benefits for all our stakeholders. It is a truly transformational, long-term management solution that will create a platform for a new age of sustainable, optimized operations and commercial strength. We believe it sets a benchmark for the industry."
The Operations Centre will now operate as the heart of OSM's Operations and Technical Management function. In terms of its immediate impact it will enhance capabilities in true 24/7 fleet support through data management & reporting, descriptive analytics, and predictive model optimization, which, paired with machine learning, will allow the firm to significantly improve safety and operational efficiency. In addition, crews will now be able to access the same information as teams onshore, empowering their decision making, while safety and incident response abilities will be improved through better, 24/7 access to all operational data and full time monitoring.
"The initial construction of the Operations Centre may be nearing completion, but this is far from the end of the journey in terms of our technological development," Sekkesaeter stresses. "We have ambitious plans to utilise this new analytical power as a platform to create maritime solutions that will help our customers meet their operational and commercial objectives.
"We're looking into a range of technologies - including IoT enabled equipment, drones, blockchain, AI for predictive maintenance, advanced bots and edge computing, to name just a few – and will partner with leading digital developers to create smart solutions that make the most of our extensive data and industry understanding. The potential is huge… and this new facility will help us realise that."
OSM is an established leader in utilising innovative technologies to deliver performance and efficiency improvements. Earlier this month the Norwegian-headquartered firm launched its Seafarer App, giving its pool of more than 11,000 global crewmembers a single platform for managing all company communication, documentation, assignment details, and much more.
The business provides a comprehensive range of bespoke solutions for its customer base – ranging from complete ship & offshore management and all-inclusive arrangements to individual value-added services, such as crewing, procurement, accounting and insurance.
For more information about OSM, please visit www.osm.no.
The products and services herein described in this press release are not endorsed by The Maritime Executive.