Minister Breen Leads Enterprise Ireland Trade Visit to Norway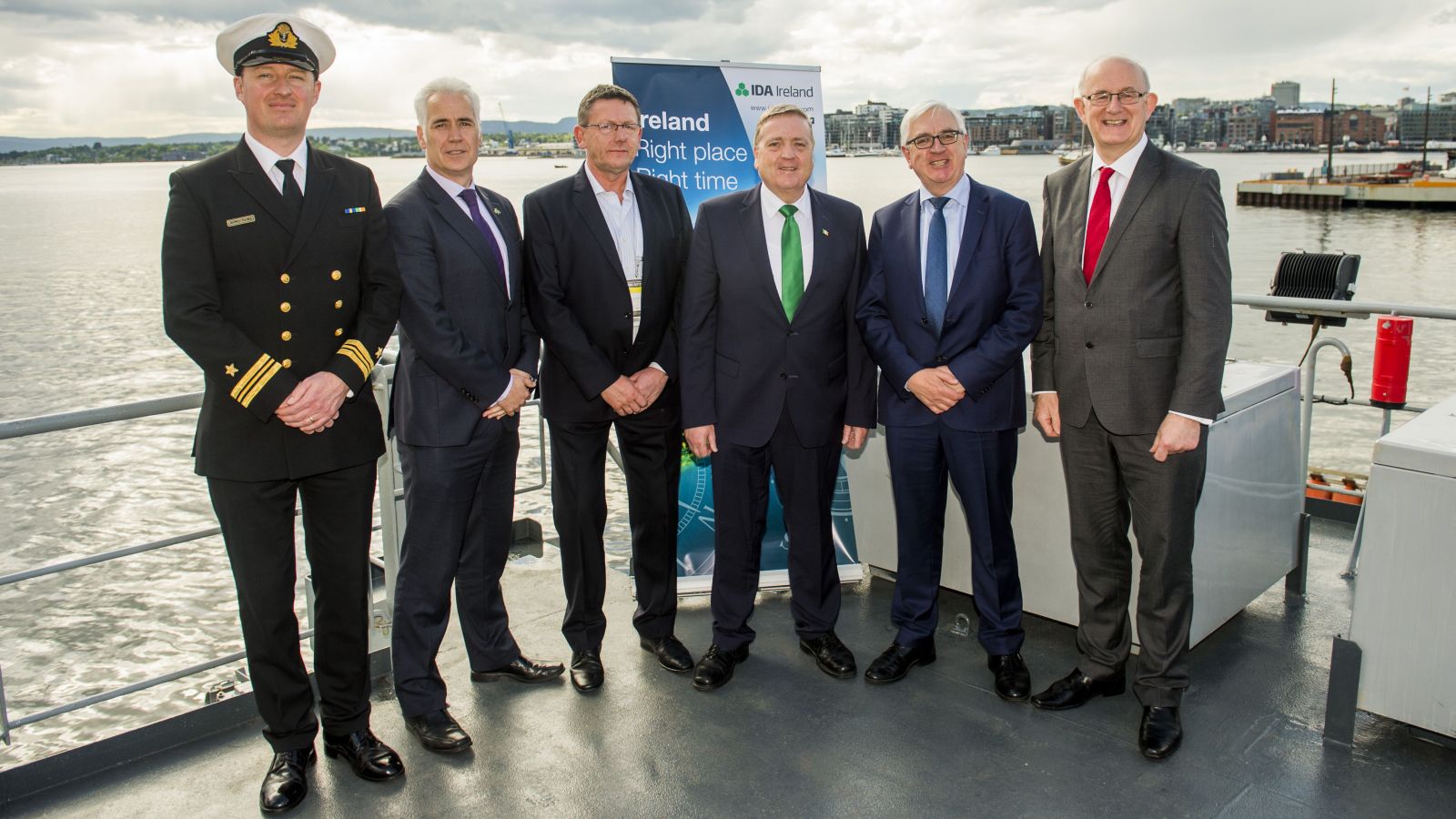 Ireland's marine resources and industrial capability will be showcased at Nor Shipping trade fair
Pat Breen T.D. Minister for Employment and Small Business will lead an Enterprise Ireland trade visit to Norway on Wednesday 31st May 2017.
The focus of the 2-day visit is the promotion of Irish companies and their capabilities in the marine sector, with Enterprise Ireland client companies exhibiting on the Irish pavilion in the Nor Shipping trade fair for the first time, led by a co-operation of Enterprise Ireland and the Irish Maritime Development Office (IMDO), supported by IDA Ireland and the Department of Foreign Affairs and Trade, under the banner of "Marine Ireland".
Participating companies are; SEFtec, an engineering company from Cork; Arklow Marine Services; the National Maritime College of Ireland; Dublin-based TFI Marine; Shannon Estuary Deep Water Marine Investment Opportunities; Liebherr Container Cranes based in Co. Kerry and PwC Ireland.
Speaking on his arrival in Oslo Minister Breen said "I am delighted to lead this Enterprise Ireland trade visit to Norway showcasing Ireland's extensive marine resources, engineering talent, research and training capabilities and attractiveness as a place to do business. I look forward to meeting the Irish companies on the Ireland pavilion at Nor Shipping where Enterprise Ireland, the IMDO, IDA Ireland and our Embassy in Oslo are working together to showcase the strengths and resources of Ireland's 'blue economy'.
The Irish pavilion at Nor Shipping is a direct result of a collaborative, inter-agency approach by the State agencies working to implement the Government's Integrated Marine Plan for Ireland Harnessing our Ocean Wealth Strategy (HOOW) and I am pleased to see progress in this regard".
Supported by the recently established Marine Development Team, a Government initiated taskforce focused on maximizing marine growth opportunities together with development agencies with a marine interest, Enterprise Ireland, the IMDO and IDA Ireland are working together to achieve targets for the development of the sector set out in HOOW. In 2010, the marine sector accounted for €1.2 billion or 0.8% of GDP and employed approximately 16,300 people. The vision of HOOW is to expand the Irish Ocean Economy to a value of 2.4% of GDP by 2030.
Explaining the importance of this trade visit to Norway and the Nor Shipping show, Tom Kelly, Industrial, Lifesciences and Consumer products manager at Enterprise Ireland, said "the maritime sector, which is the focus of Nor Shipping, is one where the Enterprise Ireland client company supply-chain can add value given the expertise that exists within ICT including the Internet of Things, data analytics, sensor technologies and automation. Our engineering clients have valuable expertise in boat building, metal fabrication, materials handling, storage and container solutions, tool making and plastics.
"This trade visit to Norway is one of over 40 international trade visits planned by Enterprise Ireland this year as part of our strategy to grow total exports from client companies to €26Bn by 2020. In 2016, Irish exports to Norway were valued at €108.4m and through our participation in Nor Shipping, Enterprise Ireland is working to build on this success by demonstrating how Irish high-tech companies can meet the needs of the Norwegian marine industry. It is part of Enterprise Ireland's drive to increase the export market penetration and diversification of Irish companies post Brexit".
In addition to visiting Nor Shipping, Minister Breen will meet the Norwegian State Secretary on board the LE Niamh and attend a business networking event for the Irish exhibitors at Nor Shipping and their key business contacts.
The products and services herein described in this press release are not endorsed by The Maritime Executive.