Latest Wärtsilä Engine Platform or Four new Erik Thun Tankers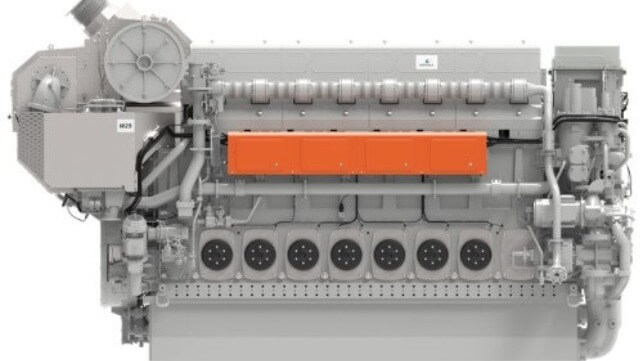 Launch of Wärtsilä 25 engine paves the way toward maritime decarbonization.
Technology group Wärtsilä will supply the engines for four new 7999 dwt chemical tankers being built for Swedish fleet owner Erik Thun. The ships will be constructed at the Ferus Smit shipyard in the Netherlands. The vessels will operate with the Wärtsilä 25 engine, the future-fuels-ready latest addition to the company's engine portfolio. The order with Wärtsilä was booked as order intake in Q1 2023.
The medium-speed 4-stroke Wärtsilä 25 features the most advanced engine technology. This enables operators to be ahead of the curve in future-proofing their fleets in readiness for fully decarbonized operations. Furthermore, the Wärtsilä 25 features outstanding fuel economy, low emissions, and smoke-free operation at all loads.
"Decarbonisation is a key driver for our operations. Therefore, it makes total sense for us to select the Wärtsilä 25 engine," says Henrik Källsson, Deputy Managing Director of Erik Thun. "We recognize the reliability, fuel efficiency, and compact design of the engine, and the option to operate with clean future fuels is very important to us. We are impressed with the investments Wärtsilä is making by developing these very modern and future-proof engines. We believe the Wärtsilä 25 is the world's most advanced engine in the 2000 kW range."
"We have had a long-term partnership with Wärtsilä and have developed a mutual trust over the years. We appreciate their brave approach in enabling the marine industry to achieve decarbonisation via these new engines that are capable of being converted to run on alternative fuels," says Patrick Kuiper, Mechanical Designer at Ferus Smit.
"We have worked closely with both Erik Thun and Ferus Smit for a number of years, and our companies are all committed to raising the efficiency and sustainability levels needed to make decarbonised shipping a reality. These four vessels reflect that approach, and we are pleased that the Wärtsilä 25 engine has been chosen for them. This really is the way ahead for operators who wish to make the transition to future fuels as smooth as possible," says Roger Holm, President of Marine Power, Wärtsilä.
This latest order will raise the number of Wärtsilä engines installed in ships built at the Ferus Smit shipyard to more than 100. Simultaneous to this contract, an order was also signed for a Wärtsilä 20 engine for Erik Thun. This is a repeat order from an earlier project.
The Wärtsilä equipment will be delivered to the yard commencing in Q4 2024, and the first of the four ships is scheduled for delivery in mid-2025.

The products and services herein described in this press release are not endorsed by The Maritime Executive.