KR & LISCR Award AiP for Autonomous Navigation System HiNAS 2.0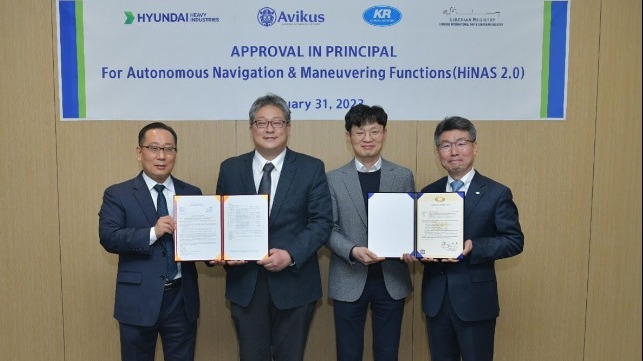 The commercialization of autonomous shipping has taken another step forward with the Korean Register (KR) and Liberian Registry (LISCR) awarding Approval in Principle (AiP) on 31 January for Hyundai Intelligent Navigation Assistant System (HiNAS 2.0).
The newly approved HiNAS 2.0, developed by Avikus, a subsidiary of Hyundai Heavy Industries (HHI), uses augmented reality (AR) to enable a ship to navigate optimal routes at ideal speed, and avoid collisions based on the integrated data by artificial intelligence (AI) collected from sensors attached to a vessel and its sailing equipment.
The solution was developed to ensure safe navigation, improve fuel efficiency and ease the operational burden on bridge teams. The autonomous system is also expected to reduce maritime accidents and air pollutants.
To overcome the limitations on existing rules for examining the new autonomous navigation systems, KR, HHI, Avikus, and LISCR signed a joint development agreement in August 2022 to collaborate on bringing HiNAS 2.0 to market. KR and LISCR have now each confirmed the system's safety and feasibility, having reviewed classification rules, domestic and international standards, and issued an AiP.
JUNG Jaejun, Vice President of HHI said: "The AiP awarded to HiNAS 2.0 is a great example of HD Hyundai's determination to become a first mover in maritime mobility, by providing the digital solution for autonomous navigation. We will continue to advance our technologies for the safe autonomous operation of vessels."
LIM Dohyeong, Avikus CEO said: "The outcome of this joint development research is quite meaningful because it is the first achievement through the collaboration of a shipyard, an autonomous navigation solution development company, a classification society and a ship registry. It proves that an autonomous navigation system can be installed on a ship and operated stably. We believe HiNAS 2.0 will drastically improve the safety and economic feasibility of ships, accelerating the commercialization of autonomous navigation technology."
KIM Yeontae, Executive Vice President of KR Technical Division said: "The commercialization of autonomous ships is highly anticipated by maritime stakeholders. This AiP is significant since it has proven the reliability and safety of AI-based autonomous navigation systems. We will provide our full technical support to enhance the safe and cost-efficient operation of autonomous ships."
Thomas Klenum, Executive Vice President, Innovation & Regulatory Affairs of LISCR said: "As one of the key features, the Hyundai Intelligent Navigation Assistant System (HiNAS 2.0) significantly reduces the risk for collision and thereby enhances the safety of navigation, and in addition, the system integrates voyage optimization capability that reduces fuel consumption and emissions. The Liberian Registry is proud to have awarded the AiP to HiNAS 2.0 as a result of this joint development project with HHI, Avikus and KR."
The products and services herein described in this press release are not endorsed by The Maritime Executive.