Fehn Pollux on Her Way to Rebuilding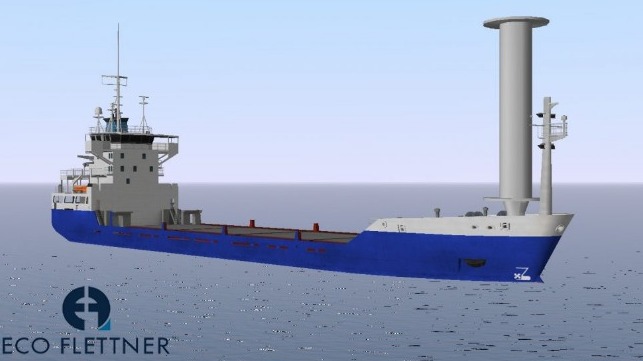 Fehn Pollux is on her way home. After arriving in Leer in late May, the 4200 dwt vessel will be the first ship to be equipped with the prototype of a newly developed sail propulsion system. The Eco Flettner exploits a wide range of wind speeds thanks to its extended speed range. The additional thrust gained from wind energy is intended to reduce fuel consumption and harmful emissions. As the sailing power increases, the engine power can be reduced.
The rotor consists of a 18 meter high cylinder with a diameter of three meters. Since May 2015, the rotor has been thoroughly tested on land and passed all tests successfully.
"We are all very pleased that this project is going into its realization phase," says Matthias Hesse, Managing Director of Fehn Ship Management. "We have been working on alternative ship propulsion systems for a long time, so we immediately agreed when we were asked by Mariko in Leer if we wanted to participate in the project. We have already invested a lot of time in this project and we will do our part to make the test a success."
Fehn Pollux has already passed her test drive - if only on the computer: The vessel including the Eco-Flettner has been virtually generated in the navigation simulator Susanne, which is being operated by the University of Emden / Leer. The scientists sent her on several voyages to investigate the influence of the rotor on her maneuvering behavior. "While the ship is being rebuilt in Leer, our nautical officers will be able to handle the vessel with Eco-Flettner in the simulator and gain initial experience," says Hesse.
The products and services herein described in this press release are not endorsed by The Maritime Executive.