EST-Floattech -The Octopus Series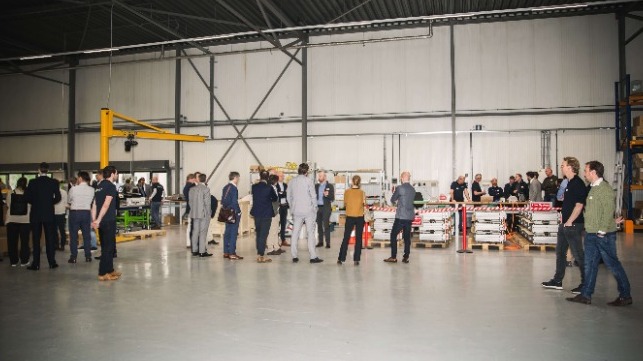 EST-Floattech officially launches new maritime type-approved system: the Octopus Series
EST-Floattech, a global leader in energy storage solutions, is pleased to announce the official launch of the Octopus Series battery system. The new production line is in place, and the first modules of the new battery system have been delivered to clients. On Wednesday, April 12th Europarlementarian Caroline Nagtegaal-van Doorn officially opened the production line, simultaneously launching the Octopus Series.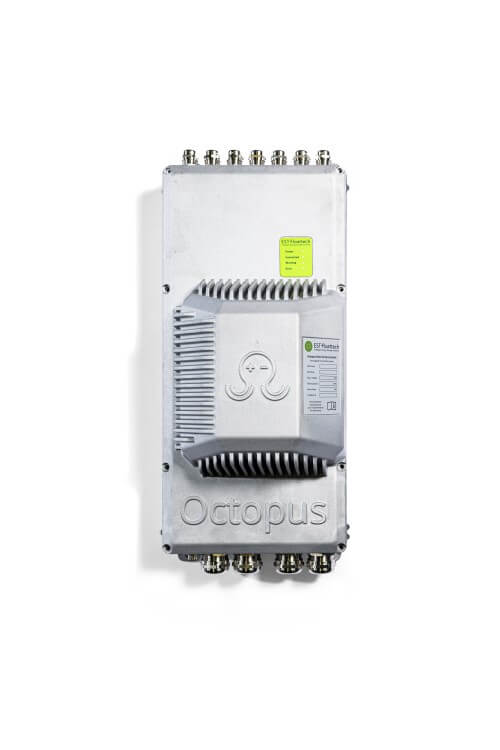 The Octopus platform is an advanced, modular battery management system developed to configure a variety of batteries. This battery management system (BMS) provides a user-friendly interface that connects the battery. As it can integrate a range of battery configurations and chemistries, it is highly versatile and adaptable to diverse applications, while maintaining a consistent interface for the customer. The BMS is an integral part of the safety management of the batteries and offers remote monitoring, diagnostics, and service.
High Energy, High Power and more
The Octopus Series currently offers two main types of battery modules: High Energy and High Power. The High Energy batteries are designed for long-duration and large-scale battery installations, making them ideal for medium- and large-sized ships that sail electrically and charge during the night, for example. The High Power modules deliver a lot of power (kW), combined with limited energy storage (kWh), which, in practical terms, means a short (dis-)charging time. This can be used in fast-charging ferries, that make short trips and need to charge during stops. In addition, the company is at an advanced stage with the development of a lite and lite xl version of the Octopus batteries. Secondly, modules based on LFP are also under development.
In addition to a fixed configuration - placing the system in a dedicated battery room - the Octopus Series battery system is available as a containerized solution, that can be placed on different types of vessels and offers a lot of flexibility . The Octopus Containerized Solution is available in a 10- and 20-foot container.
"The market is growing, to improve sustainability and due to goals set by regulations," said Walter van der Pennen, CCO at EST-Floattech. "The energy transition in the maritime market has really started, and in the past few years there has been an increase in electrically powered vessels. As a result, you see more and more differentiation in the applications needed by shipowners and shipbuilders, not only for direct propulsion but also for various equipment, machinery, peak performance and hotel loads. In addition, new types of applications are being thought of as we speak."
Safe design: Marine type approval
The Octopus Series battery-system is the second system of EST-Floattech that has received DNV type approval. The company has a safe by design philosophy when creating products. The Octopus Series has been designed with multiple safety layers in the hardware and software. These safety systems prevent the battery cells from reaching critical limits, based on more than ten years of experience with maritime battery systems. This battery system represents the next generation of certified battery management systems for maritime markets.
"EST started developing battery systems to be used on board of ships already some 14 years ago, as soon as it became apparent that energy storage systems would play an important role in the reduction of CO2 emitted by shipping," says Mark Witjens, CEO at EST-Floattech. "Our innovative Octopus system can be applied at such a scale, that it will pass the so-called positive tipping point and we have sized our new production facilities and methods to accommodate this expected increase in demand. The associated increase in production volume will enable a further reduction in cost, making the Octopus Series another big step towards a zero-emission maritime industry."
Meanwhile, the first modules have rolled off the production line, and the first systems are being installed in our customers' vessels. Maritime type approvals of Bureau Veritas and Lloyds Register are to follow shortly. The launch of the Octopus Energy Storage System is a big moment for this Dutch energy storage supplier.

About EST-Floattech
EST-Floattech (2009) is specialized in developing, producing, and installing reliable, sustainable, and safe battery systems for maritime applications. The in-house developed software is integrated to assure reliable operation of the battery system on board. The safety and reliability of EST-Floattech's battery technology is demonstrated by the more than 200 projects we have done involving ships that have been sailing with our batteries for more than a decade.
www.est-floattech.com
The products and services herein described in this press release are not endorsed by The Maritime Executive.