E/V Nautilus Expands Ocean Exploration Mapping Capabilities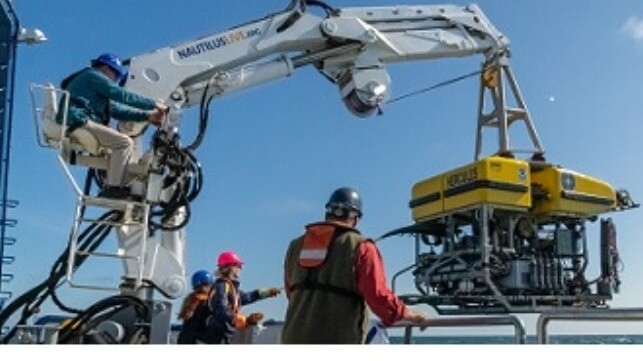 Ocean Exploration Trust is excited to announce the installation of a new Kongsberg Simrad EC150-3C 150 kilohertz transducer on Exploration Vessel (E/V) Nautilus. This new sonar is mounted within the ship's hull and the EC150-3C is the first of its kind to combine an acoustic Doppler current profiler (ADCP) and an EK80 split-beam fisheries sonar into one instrument. The ADCP, which measures the speed and direction of currents at various depths underneath the ship will support safe remotely-operated vehicle (ROV) operations and provide data for improving oceanographic current models. The integrated split-beam echosounder is used to map and characterize features found within the water column, such as biology, scattering layers, and potentially bubble plumes.
"This new instrument will enable our team to thoroughly assess the currents beneath the ship to optimize how we deploy and recover any vehicles and instruments we use to explore the oceans," says OET Mapping Operations Manager Dr. Derek Sowers. "This sonar will also reveal features in the water column in great detail, which enables us to direct undersea robots - either connected to the ship or free-roaming - to specific features of interest. "
The EC150 will equip E/V Nautilus with the capability to better serve as an operations hub for multi-vehicle operations, increase OET's capacity to explore and map the water column, and to collaborate with partners from the Ocean Exploration Cooperative Institute to advance combined robotics and new technologies to increase and advance the pace of ocean exploration.
E/V Nautilus' acoustic tools simultaneously collect bathymetry (i.e., seafloor topography), seafloor backscatter, and water column backscatter data to enable teams to identify areas or features of interest and produce high-resolution seafloor maps. The Kongsberg EM302 multibeam echosounder, installed on Nautilus in late 2012, can map the seafloor from depths of 10 to 7,000 meters (33 to 23,000 feet) while cruising at ship speeds up to 12 knots (14 mph). Before ROVs are deployed, our team must first map the area to understand the region's characteristics and identify potential seafloor habitats, gas seeps, and other environments and resources worthy of exploration
Through dedicated surveys and tactically designed transits, OET works to collect data from unmapped areas of our expeditions. We are a partner of the Seabed2030 initiative, an international collaborative project to combine all bathymetric data to create a comprehensive map of the ocean floor. Since 2012, we have mapped over 835,000 square kilometers (322,000 square miles) of the seafloor in the Atlantic, Gulf of Mexico, Caribbean Sea, and Pacific Ocean.
E/V Nautilus expeditions focus on seafloor mapping and ROV explorations of the deep ocean, testing and integrating emerging exploration technologies, and connecting with scientists, students, and the public to explore the deep sea from anywhere in the world. In 2022, E/V Nautilus completed an 8-month field season consisting of 11 expeditions that explored the Central Pacific for 202 days at sea. In 2023, we will return to the Pacific with expeditions near the Hawaiian Islands, the Pacific Remote Islands Marine National Monument, the Papah?naumoku?kea Marine National Monument, and offshore British Columbia.
Since the national NOAA Ocean Exploration Program was authorized into US law by Congress in 2009, OET has been partnering closely with NOAA Ocean Exploration as well as other government agencies, academic institutions, and the private sector to advance the field of deep-sea exploration and to engage the public and next generation in this exciting global endeavor. As part of NOAA's Ocean Exploration Cooperative Institute, OET explores, maps, and characterizes the nation's vast ocean territory, develops and implements new technologies, and engages future generations of ocean scientists, engineers, and stakeholders.
________________________________________
About the Ocean Exploration Trust
OET was founded in 2008 by Dr. Robert Ballard to explore the ocean, seeking out new discoveries in the fields of geology, biology, maritime history, and archaeology to engage in pure ocean exploration. International programs center on the scientific exploration of the seafloor, innovating new ways and technologies to conduct exploration, and engaging and educating the next generation on the significance of science, technology, engineering, art, and mathematics (STEAM) through the excitement of discovery.
Expeditions are launched from aboard Nautilus — a 68-meter research vessel — and with collaborative technology partners. During expeditions, we offer onshore explorers live video, audio, and data feeds from the field in addition to ship-to-shore interactions with classrooms and learning venues for students. We bring educators and students of all ages aboard during deep-sea exploration, offering them hands-on experience in ocean exploration, research, and communications. OET is committed to working towards creating more diverse and inclusive programs — both at sea and on shore — to ensure our exploration and education programs include, amplify, and make space for more historically marginalized voices in the deep-sea exploration and STEAM communities.
Sharing the stories of science, technology, and people behind ocean exploration is a key component of OET's education mission and we strive to make our content easily available to media outlets. For more information and resources, please visit the OET Press Room.

The products and services herein described in this press release are not endorsed by The Maritime Executive.