Double Naming Ceremony at Gondan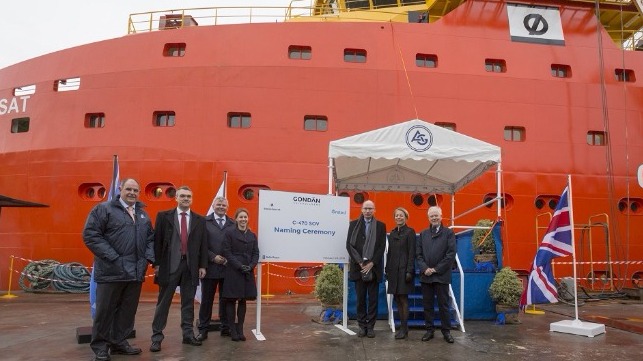 Two important milestones for Gondan's latest constructions took place last weekend at the shipyard. Specifically on Saturday, the first service operation vessel (SOV) built in Spain, Edda Passat, was named, and the day before, also after the celebration of her naming, her sister vessel, Edda Mistral, touched the waters of the Ria del Eo, for the first time.
In these events, Gondan has had the pleasure of having the presence of the management of the shipowner company Østensjø Rederi A/S and representatives from Ørsted, the energy company for which the vessels will operate, among others: Johannes Østensjø, Kenneth Walland (ØR CEO), Jens Jakobsson (Senior Vice President Operations of Ørsted), Lars Høy Jørgensen (Head of Operations Logistics of Ørsted), as well as delegates from banks and financial institutions and representatives of the designer, in this case Rolls Royce Marine.
The godmothers were Trine Borum Bojsen (Vice-president of the area of QHSE of Wind Power of Ørsted) and Rebecca Goff (Senior Maritime Specialist of Ørsted).
Edda Passat and Edda Mistral (with a length of 81m and a beam of 17m) have been specifically designed and built to operate at Ørsted's wind farms off the coast of the United Kingdom. The first of them will operate at Race Bank wind farm, while the second one at Hornsea 1. They are able to accommodate up to 40 technicians who will perform maintenance tasks at these wind farms, and a crew of about 20 people.
Both vessels are equipped with an Uptime 23m length heave compensated walk-to-work gangway, a cutting edge 3D compensated crane and a CTV landing system with bunkering facility. In addition to the gangway, the on-board-fitted 11m daughter craft will allow the safe transfer of maintenance technicians to the offshore wind turbines.
The products and services herein described in this press release are not endorsed by The Maritime Executive.