Damen Shipyards Group Again Delivers Multiple Dredgers to Bangladesh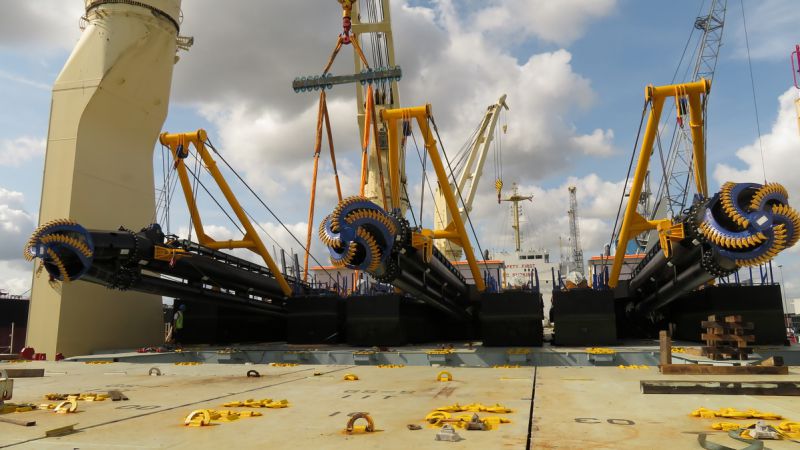 Following various dredgers recently delivered in Bangladesh, and the successfully organised Damen Dredging Seminar last month in Dhaka where Her Excellency Mrs. Leoni Cuelenaere, the Dutch Ambassador to Bangladesh was the honorable chief guest, Damen has again delivered multiple dredgers from available stock.
Regional Sales Director Rabien Bahadoer said: "Damen has again confirmed its long-term commitment to Bangladesh by delivering quality dredgers with a proven design from ready stock. This will swiftly help our customers to start their dredging job in supporting the riverine country." Mr Bahadoer added that "Our dedicated Service Team has overseen a very fast handover. This August delivery comes very soon after our well received Dredging Seminar in July. The dredgers include various optional items, such as production meters, spud carriage systems and spare parts. A unique achievement, and we expect that there is more to come."
About Damen Shipyards Group
Damen Shipyards Group operates 33 shipbuilding and repair yards, employing 9,000 people worldwide. Damen has delivered more than 6,000 vessels in more than 100 countries and delivers some 180 vessels annually to customers worldwide. Based on its unique, standardised ship-design concept Damen is able to guarantee consistent quality.
Damen's focus on standardisation, modular construction and keeping vessels in stock leads to short delivery times, low 'total cost of ownership', high resale values and reliable performance. Furthermore, Damen vessels are based on thorough R&D and proven technology.
Damen offers a wide range of products, including tugs, workboats, naval and patrol vessels, high speed craft, cargo vessels, dredgers, vessels for the offshore industry, ferries, pontoons and superyachts.
For nearly all vessel types Damen offers a broad range of services, including maintenance, spare parts delivery, training and the transfer of (shipbuilding) know-how. Damen also offers a variety of marine components, such as nozzles, rudders, anchors, anchor chains and steel works.
Damen Shiprepair & Conversion (DSC) has a worldwide network of sixteen repair and conversion yards of which twelve are located in North West Europe. Facilities at the yards include more than 50 floating and (covered) drydocks, the largest of which is 420 x 90 metres, as well as slopes, ship lifts and indoor halls. Projects range from the smallest simple repairs through Class' maintenance to complex refits and the complete conversion of large offshore structures. DSC completes around 1,350 repair and maintenance jobs annually, both at yards as well as in ports and during voyage.
For more information, visit www.damen.com.
The products and services herein described in this press release are not endorsed by The Maritime Executive.