Damen's New Offshore Contruction Projects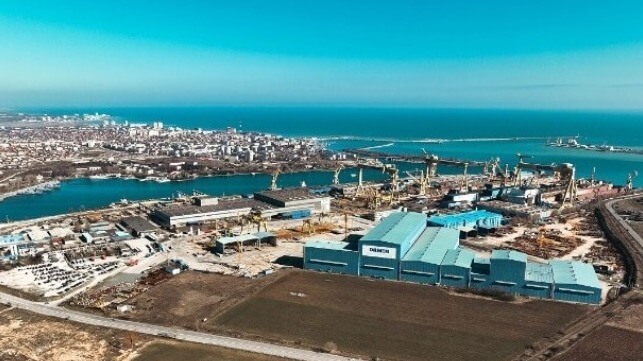 Dmen's new Offshore Construction capability reveals two projects already underway, the first project is now 70% complete.
Damen Shipyards Group is leveraging its resources and shipbuilding expertise to become a major force in offshore construction. It sees exciting opportunities in offshore wind, particularly the emerging floating wind sector, but also recognizes the potential in other segments of the offshore energy sector and aquaculture. Damen is now offering a complete construction service including delivery, working on clients' designs, and providing fabrication engineering expertise.
Damen Shipyards Mangalia (DSMa), Romania, the group's largest facility, will play a significant role. Capable of handling very large structures, it is also equipped with a semi-automated panel line, modern blasting and painting cells, a 1,000-tonne gantry crane, and other equipment that make it highly efficient operationally, as well as economically.
The company is currently delivering two HVDC (High-Voltage Direct Current) offshore transmission projects at DSMa, both of which are being constructed under contracts with Aker Solutions as the main EPCI contractor. Work began last year and, with assembly and outfitting commenced, the first is due for delivery in the first half of 2023 and the second will be delivered in Q1 2024. Once complete, the HVDC topsides will set sail for Aker Solutions' yard in Stord, Norway, where the HVDC equipment will be installed and commissioned before they depart for their final destinations.
Damen is undertaking the structural fabrication, surface protection, outfitting including insulation, lighting, ducting, local cabling, and more, and the fabrication of the transport grillages. The structural design by Aker Solution incorporates construction-friendly design principles, which enables an efficient fabrication process when combined with the facilities available at DSMa. Damen's long experience in shipbuilding and Damen Shipyard Mangalia's facilities ensures the highest quality in executing current and future projects.
Arne Engevik, HVDC director at Aker Solutions, said: "Damen Shipyards Group is a key partner for us in offshore wind. Their facilities are well suited for fabricating these types of structures, and the company shares our passion for delivering large, complex projects safely and sustainably. We have built a very strong relationship with the company over the past years and consider Damen as an integral part in successfully delivering our HVDC portfolio."
Wouter Henstra, Commercial Manager Damen Offshore Construction, added: "We are very pleased that Aker Solutions, a leading supplier of integrated solutions, products and services to the global energy industry, has chosen Damen Shipyards for these projects. We are confident that the HVDC topsides will fulfil their roles for many years to come and we are delighted to be expanding the contribution that we already make to the roll-out of much-needed offshore wind generation capacity."
Damen Shipyards Group - Oceans of Possibilities
Damen Shipyards Group has operated for over ninety years and offers maritime solutions worldwide, through the design, construction, conversion, and repair of ships and ship components. By integrating systems, we create innovative, high-quality platforms, which provide our customers with maximum added value.
Our core values are fellowship, craftsmanship, entrepreneurship, and stewardship. Our goal is to become the world's most sustainable shipbuilder, via digitalization, standardization and serial construction of our vessels.
Damen operates 35 shipyards and 20 other companies in 20 countries, supported by a worldwide sales and service network. Damen Shipyards Group offers direct employment to more than 12,000 people.
The products and services herein described in this press release are not endorsed by The Maritime Executive.