Damen Partner Opens New Office in Colombia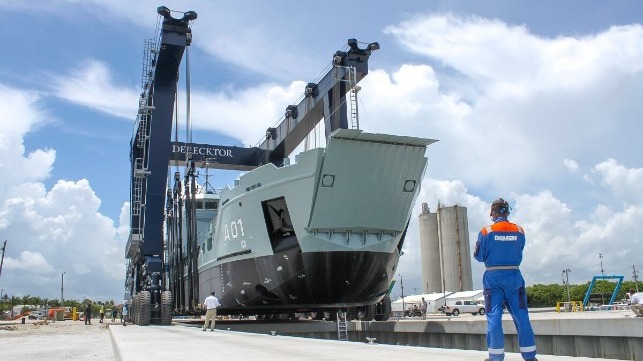 Damen's partner in Colombia, LINEAL Engineering, has opened a new office in Barranquilla on Colombia's Caribbean coast. Since the company was founded five years ago it has been based in the inland capital, Bogotá, an ideal location for supporting its governmental and naval customers. The addition of an office in Barranquilla now enables it to provide an enhanced level of service to its private sector clients.
LINEAL The new office has both sales and engineering personnel and they will be focusing primarily on the harbour & terminal and dredging sectors, as well as supporting vessels of other types. The Caribbean is an important market for the Damen Group. Recent collaborations include the signing of a contract in September by COTECMAR and Damen for the co-development of the contractual design for the next generation of frigates for the Colombian Navy. And previously, in 2019, the two groups agreed to collaborate on the design and build of a long range, 83-metre, scientific marine research vessel for the DIMAR maritime authority. This has taken place under Damen's Technical Cooperation programme and the completed vessel has been successfully delivered last month.
Working with LINEAL Engineering, Damen has good relationships with local shipyards and owners, offering a range of services that include not only support for new builds, maintenance and spare parts but also training, finance and other services that support vessels throughout their lives.
LINEAL Engineering also works with Damen's Service Hub in Panama City, its third hub in the Americas. Opened in January this year, it also offers a full range of technical and service / warranty support for both Damen-built and third-party vessels right across the Caribbean. Directly supported by Damen's head office, the majority of its staff are recruited locally and service engineers are positioned around the region to ensure rapid responses to enquiries.
The team is set to expand in the months ahead as demand grows for its services. Its main areas of activity are, in the private sector, harbour vessels including tugs, workboats and pilot vessels and, in the public sector, patrol boats and ancillary vessels for navies, coastguards and other agencies. Colombia's new marine research vessel will also be supported by the Panama Hub once it enters active service.
"Regardless of the fact that nowadays we have virtual alternatives, we believe that being close to our clients allows us to provide the best service. We believe in human contact, we like human contact and that is why with this new office, we make human contact," says Jhon Pardo, managing director of LINEAL Engineering.
"LINEAL's new office in Barranquilla will bring fresh opportunities for both our organisations," said Dominique Smit, Damen Sales Manager Latin America. "And together with our growing service hub in Panama, we are well prepared to support commercial vessel owners and operators across the region with Damen expertise and quality."
Damen currently operates more than ten Service Hubs across the globe, with more on the way. In addition to those in North and Central America there is also Damen Services Brazil, in Rio de Janeiro. Like its counterparts it partners with local organizations to meet the needs of its customers and to deliver repair, servicing and upgrades to the high standards that Damen Services is known for.
The products and services herein described in this press release are not endorsed by The Maritime Executive.