CNBC Documentary: Oceans of Crime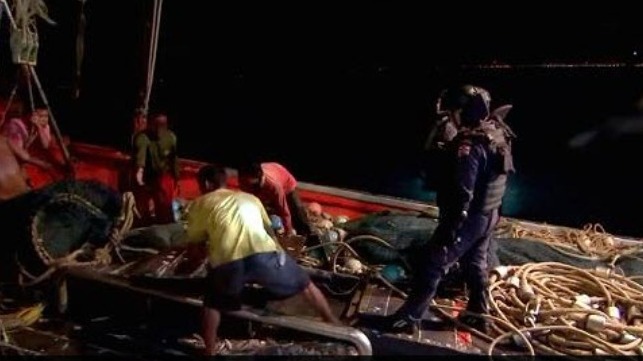 On Saturday, February 17 at 8pm ET/PT, CNBC presents "Oceans of Crime," a one-hour documentary reported by Ted Kemp that uncovers a fascinating and disturbing crime story set in in one of the most lawless places on earth: our oceans, where perpetrators feed an illegal seafood supply chain and victims of human trafficking are forced to serve aboard commercial fishing vessels for years at a time. It's all part of a multi-billion dollar outlaw industry funded by the global appetite for salmon, tuna, sushi and other seafood. Americans alone consume nearly five billion pounds of seafood every year, though many are unaware of the massive human and environmental wreckage left by illegal, unreported, and unregulated (IUU) fishing.
It's estimated that 90 percent of the seafood sold in the U.S. is imported with roughly a quarter of that being illegal – fish stolen from the sea with no regard for the law, territorial waters, or endangerment to the species themselves. This epidemic now threatens the livelihoods of crucial fishing communities around the world and ultimately, the global food supply, as ecosystems become dangerously depleted and scientists warn that whole marine species could face the threat of extinction.
CNBC investigates the little-known and sometimes shocking means by which seafood arrives at our grocery stores and restaurants. Viewers will get a first-hand look at how some of the seafood supply moves from the waters of Southeast Asia to American shores, fueled by a dangerous black market. Along the way, they'll follow an eco-activist and ship captain who's chasing rogue Chinese fishing vessels in the South Indian Ocean; a satellite sleuth in landlocked West Virginia who culls signal data to help patrol the world's seas; an American aid worker fighting to help former fish boat slaves in Thailand; an American fishing fleet owner who defends U.S. industry practices; federal agents who patrol our ports in search of illegal seafood shipments; and conscientious retailers and restaurant owners trying to make sense of a shadowy supply chain, including executives from Whole Foods who talk about their commitment to ethically sourced seafood.
"Oceans of Crime" is an eye-opening investigation into the true cost of the seafood we eat – a gripping account that begins half a world away and ends as close as your kitchen table.
The products and services herein described in this press release are not endorsed by The Maritime Executive.