Capt. Phillips Trust Attends Maritime Industry Congressional Sail-In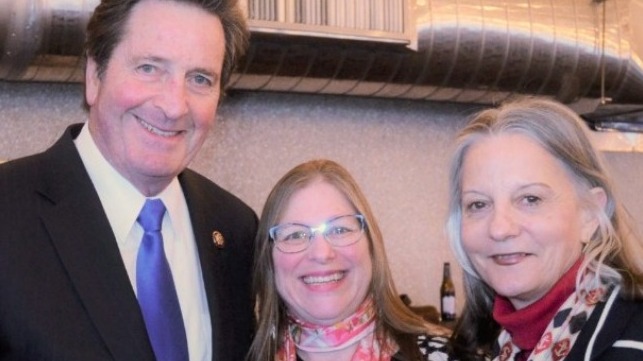 On March 6, 2019, the U.S. maritime industry came together in Washington D.C. to take part in the 10th annual "Sail In." The day kicked off early with a morning breakfast to network and form the engagement teams. Over the course of the entire day, the teams held nearly 200 separate meetings with members of both houses of Congress and their staffs. The schedule included interaction with members and staffs of key committees charged with oversight and legislation which impacts the U.S. maritime industry and also the many members of Congress who are newly elected.
More than 150 representatives from across the U.S. maritime industry participated in the discussions. The diverse group of industry representatives included licensed mariners, labor relations groups, ship owner/ operators, retired USCG and Naval officers, and training and education experts. The discussions on the Hill centered around the national strategic imperative of a strong U.S. Merchant Marine, the benefits and significant Return on Investment of the Maritime Security Program and the requirements for full funding, as well as, dispelling the myths, misconceptions, and misunderstandings about the Jones Act and Cargo Preference. The maritime industry representatives also appealed for the long overdue recognition of the significant contributions of WWII Merchant Mariners and the awarding of the Congressional Gold Medal.
The Phillip's Trust Executive Director, Rear Admiral Wendi Carpenter (U.S. Navy Retired), and Board Chair Captain Klaus Luhta (representing MMP) teamed up to attend six separate meetings on the Senate side and the evening reception with Congressman John Geramendi (D, CA), who is always a strong advocate and supporter for the maritime industry.
When asked about the event, Captain Luhta made the following observations: "The annual Congressional Sail-In gives us a unique opportunity to share key information with members of Congress who may not have regular interaction or familiarity with the maritime industry and its important role in our Nation's economic prosperity and national security. We are honored to be able to participate and help raise awareness of the value, benefits, and important strategic role of the United States Merchant Marine."
The products and services herein described in this press release are not endorsed by The Maritime Executive.