Norway and U.K. Accelerate Autonomy
A duo of developments coming out of Norway and the U.K. has given the slow drive towards unmanned and autonomous vessels a sharp boost in in the latter part of 2016.
At the end of September, it was announced that an extensive area of the Trondheimsfjord in Northern Norway had been designated as an official test bed for autonomous shipping by the Norwegian Coastal Authority (NCA). It's believed to be the first coastal area in the world officially dedicated to the development of technology for autonomous ships, setting it up to become a vital facility for the future development of state-of-the-art vessels.
Kongsberg Maritime was integral to the opening of the Trondheimsfjord test bed and will become a major user in order to continue its development of sensors, software and systems that enable more autonomy for ships. The company has already demonstrated the suitability of the area for autonomous technology trials; its Trondheim-based subsidiary Kongsberg Seatex tested various new autonomous technology solutions there in June, together with the Norwegian University of Science and Technology (NTNU) and the Norwegian Defense Research Establishment.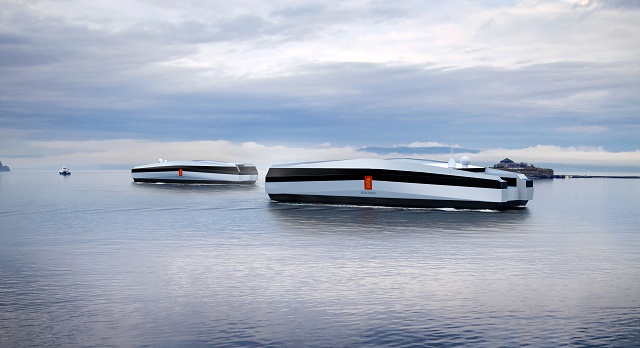 The test-bed initiative was established by the Norwegian Marine Technology Research Institute (MARINTEK), NTNU, the Trondheim Port Authority, Kongsberg and Maritime Robotics with other stakeholders including the Ocean Space Centre, and NTNU's Center for Autonomous Operations and Services (AMOS).
The fjord offshore Trondheim is ideal for the development of new solutions for autonomous ships. The area experiences light vessel traffic, making it a safe place to conduct autonomous vehicle trials. It is also home to high levels of maritime competence through an extensive maritime technology cluster and several major academic and research organizations.
Shortly after the autonomous test bed was announced, it was unveiled that Kongsberg Maritime had partnered with the U.K.'s Automated Ships Ltd (an M Subs Ltd subsidiary), to develop what is expected to be the world's first unmanned and fully-automated vessel for offshore operations.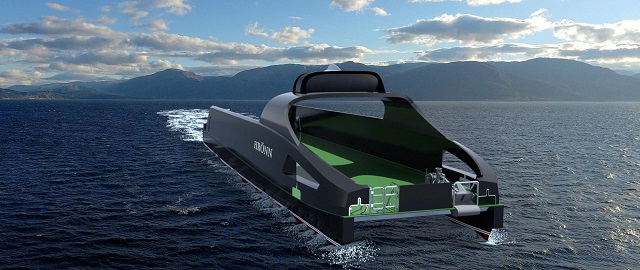 Hrönn is a light-duty, offshore utility ship servicing the offshore energy, scientific/hydrographic and offshore fish-farming industries. It can be used for a variety of jobs, including: Survey, Remotely Operated Vehicle (ROV) and Autonomous Underwater Vehicle (AUV) Launch and Recovery, light intermodal cargo delivery and delivery to offshore installations, open-water fish farm support and firefighting support.
The ship will be built at Norwegian shipyard Fjellstrand AS, with detailed design work scheduled to start mid-January. Final specs aren't available yet, however preliminary information states that she will be 35 meters (115 feet) LOA and 10 meters (33 feet) abeam, with about three meters (10 feet) draught, maximum speed of 14 knots and maximum and cruising speed of eight knots. According to Automated Ships Ltd, deployment duration will be measured in weeks, not days. The company also states that the ship will be in service by the end of Q2 2018.
It's certainly an accelerated schedule. With sea trials set to take place in the new Trondheimsfjord test bed under the auspices of DNV GL and the Norwegian Maritime Authority (NMA) during Q1 2018, the project members certainly have their work cut out. However, the technology to offer safe autonomous operations already exist in today's connected maritime environment. Currently, only small unmanned boats are being utilized for near shore operations but there are no technical limitations to constructing large, unmanned and automated systems.
According to Automated Ships Ltd, the only impediments are regulatory, but with the participation of DNV GL and the NMA, and Norwegian and U.K. companies and institutions, it will be possible to rapidly and at low-cost be the first to market with a full-size unmanned ship.
Though designed from the start for unmanned and autonomous operations, Hrönn will initially operate and function primarily as a remotely piloted ship, in Man-in-the-Loop Control mode, but will transition to fully automated, and ultimately autonomous operations as the control algorithms are developed concurrently during remotely piloted operations.
As technology lead, Kongsberg Maritime's role in the project is to deliver all major marine equipment necessary for the design, construction and operation of Hrönn. The company will deliver all systems for dynamic positioning and navigation, satellite and position reference, marine automation and communication. All vessel control systems including K-Pos dynamic positioning, K-Chief automation and K-Bridge ECDIS will be replicated at an Onshore Control Centre, allowing full remote operations.
Tom Eystø is Vice President DP and OSV at Kongsberg Maritime.
The opinions expressed herein are the author's and not necessarily those of The Maritime Executive.