Grand Bahama Shipyard Predicts a Record Year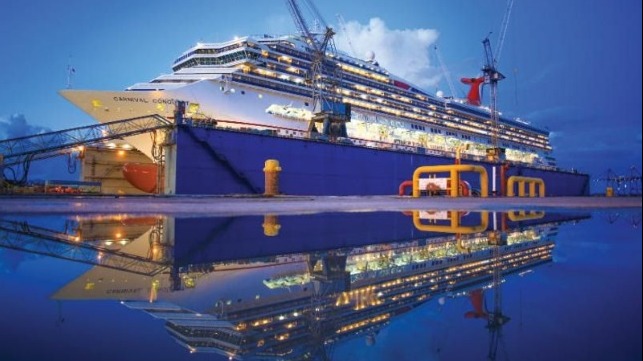 Last year, Grand Bahama Shipyard (GBS) dry docked 23 cruise vessels for the biggest players in the industry. For most projects, the scope of work included significant propulsion and technical systems overhauls, hull treatment, accommodations and public spaces upgrades and the addition of onboard attraction facilities.
The Carnival Elation project, completed for Carnival Cruise Line last fall, was GBS' first ever turn-key solution of complex steel fabrication for a major revitalization project. The overhaul included deck fabrications for cabins and passenger areas and other complex steel fabrications, along with the installation of a ducktail and sponsons to aid buoyancy. The expertise required for the installation of the ducktail and sponsons involved detailed "mapping" of the existing hull form, then matching existing frames to the frames on the new structures.
The work scheduled for 2018 will include a project for Carnival similar to the Elation in which a vessel will undergo a "revitalization" within a 30-day period. GBS' turn-key solutions will include the fabrication and installation of new steel structures, including a cabin block structure with additional cabins, new structures which will become balconies for mid-ship and aft cabins on several deck levels, the fabrication and installation of a ducktail and sponsons, and steel fabrications as base components for interior work that will enhance public spaces. GBS will fabricate the major support structures for a new water park. Standard overhauls to piping and mechanical systems are planned, along with complete hull treatment, thruster and stabilizer overhauls and ABB Azipod overhaul. On another Carnival vessel, "bridge wing suites" will be added, as these have proven to be a success with customers on other ships in the fleet.
Royal Caribbean Cruise Lines will have two "revitalization projects" within 2018. These major projects will run concurrently with GBS turnkey projects of fabricating and installing aluminum deck blocks for the incorporation of suites. On these projects, GBS will also fabricate the major support structures for new water parks.
In other highlights from 2017:
- Royal Caribbean's Grandeur of the Seas received a scrubber system, enhancements to aluminum and steel structures of the upper deck, and complete hull blasting and application of silicone coating. Two additional Royal Caribbean vessels arrived for late 2017 dry dock period to receive similar works.
- Princess Cruise Line's returned with two vessels, the Caribbean Princess and the Pacific Princess. Both replaced about 11 tons of steel in structural projects on the hull and upper decks. Other projects of note included the application of the intricate Princess livery on the bow of each vessel by a highly skilled team from the GBS Hull Treatment Department.
- Celebrity Summit visited in April for a major azipod overhaul. The yard team are so versed in this work that the vessel was ready to return to operations within seven days of going dry.
- Norwegian Cruise Lines dry docked five ships within the first half of 2017. The NCL Pearl and Jade received installation of new ballast water treatment system pipe lines and the overhaul of thrusters, stabilizers and azipods.
- Holland America dry docked four vessels during the late 2017 repair season. Works included complete hull treatment and livery painting, new overboard ballast water treatment system and thruster and stabilizers overhauls. GBS facilitated a new scrubber project and exhaust line replacement and ABB co-op Azipod repair.
Grand Bahama Shipyard Limited provides dry-docking and afloat repairs, refits, refurbishments and revitalizations for the cruise, commercial and offshore segments of the maritime industry. The yard has three dry docks, a pier and wharf capable of docking vessels up to 82,500 tonnes and 300 m in length. It is strategically located in Freeport, Grand Bahama, 90 nm east of Miami, Florida, and is situated along major shipping routes.
The opinions expressed herein are the author's and not necessarily those of The Maritime Executive.