Capesize Bulkers Connect 121 Ports in 31 Countries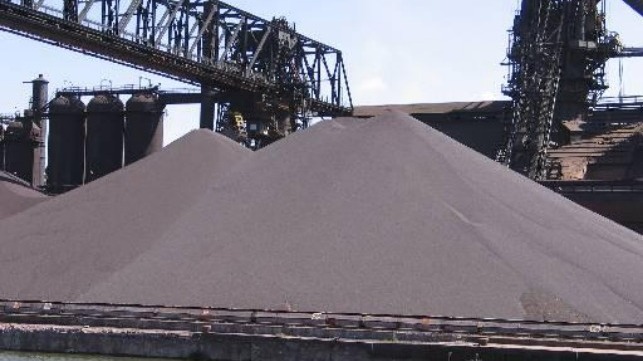 Iron ore prices in the quarter up surged and became volatile, but they have not yet affected the sea transport and capacity utilization of Capesize bulkers. According to AIS records, these ships' activeness has remained in the past three months. There were 523 Capesize bulker traveling globally, connected 121 ports in 31 counties. About 84 percent of ships are between 200,000 to 300,000dwt.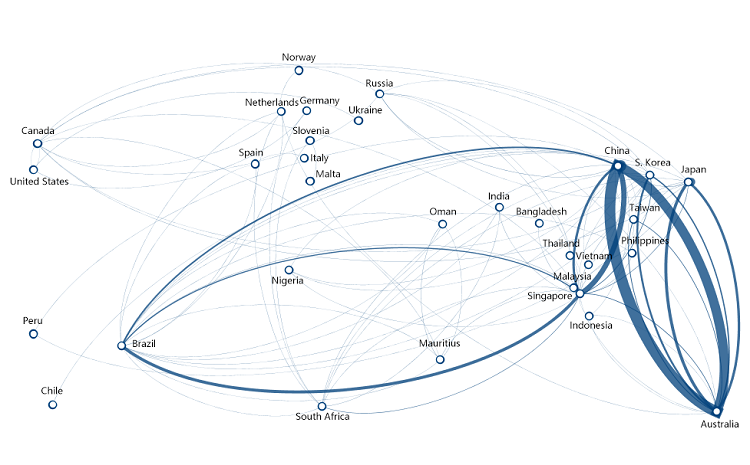 The network graph uses countries as nodes to show the trade routes. The size of edges indicates the volume of port callings. Because of one-way cargo transport, round trips between the countries are a common pattern.
China, Australia and Brazil are the obvious top players with capesize ships. Out of the total 2,199 port calls, traffics between China and Australia contributed more than half. Port pairings between these two counties accounted for almost 30 percent of the global share.
As the biggest iron ore consumer of the world, China plays a significant role in sea trade. Chinese ports had 745 calls by capesize ships for both international and domestic transports. In particular, Tangshan which locates in the east coast of china, topped its peers and had 131 connections with these ships to fulfill its role in coal diversion from North China to South. Rizhao and Qingdao, both in Shandong province, ranked second and fourth. Ningbo-Zhoushan ranked third.
Japan and South Korea had recognizable direct imports from Australia. Oita and Kashima, Gwangyang and Pohang were the hot spots in Japan and South Korea.
Port Hedland in Australia was the busiest port and had 324 port calls. In addition to aforementioned Chinese ports, Zhanjiang, Gwangyang and Shanghai were regulars on its list of collaborations.
As a regional hub for ship supplies and bunkers, 287 voyages were directed to Singapore. Ships that came from the western hemisphere to China and its neighboring countries frequently called at Singapore.
Brazil dominated exports from South American countries. 28 ships greater than 400,000dwt were deployed on routes connecting Brazil to China and the rest of the world. Besides the noticeable partnership with China, Capesize ships helped Brazil to extend its arms to Europe, the Middle East and other Asian counties. Ponta da Madeira in northern Brazil had 81 voyages. Tubarao and Sepetiba both in the south each had 36.
In North America, Canada and the United States had limited interactions. Rather, Canada was effective in its trades to European and Asian countries.
Rich in deposits of iron ore, South Africa had many connections to its east and west customers. Saldanha Bay on the south-western coast received 22 port calls from Capesize bulkers.
The opinions expressed herein are the author's and not necessarily those of The Maritime Executive.