Zukunft: USCG Stands With Transgender Servicemembers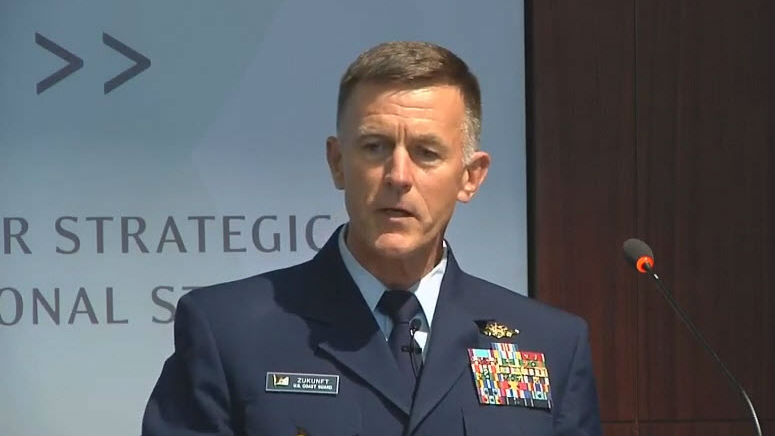 In comments at a discussion panel Tuesday, U.S. Coast Guard Commandant Adm. Paul Zukunft indicated that under his command, the branch "will not break faith" with its transgender servicemembers – a position apparently at odds with a series of tweets from President Donald Trump announcing a ban on transgender individuals in the military.
Referring to a transgender officer who will be the first in Coast Guard history to transition, Zukunft said that "we have made an investment in you and you have made an investment in the Coast Guard and I will not break faith."
In the Coast Guard, the number of servicemembers affected would be small – 13 individuals, according to Zukunft – but he maintained that the service will continue to support them. "That was the commitment to our people right now. Very small numbers, but all of them are doing meaningful Coast Guard work today," he said.
White House press secretary Sarah Huckabee Sanders told the Washington Examiner that she couldn't respond to Zukunft's comments right away. "I haven't heard those comments . . . I know the goal is to work with all of the departments, primarily the Department of Defense, to lawfully implement that new policy," she said.
The Coast Guard is housed under the Department of Homeland Security, but it is considered a branch of the military. In June 2016, the service followed the Department of Defense's decision to lift its ban on transgender personnel. The policy change was unpopular among religious conservatives, who contended that it would reduce military readiness and raise medical costs.
On July 26, Trump tweeted that he would reinstitute the transgender ban, and all accounts suggest that his announcement caught the Pentagon off guard. "I can tell you, no matter how they're spinning it, I was there that day, and everybody was caught — all the senior officers who were left there with [Secretary of Defense Gen. Jim Mattis] on vacation — they were all caught totally flat footed. They were all scrambling, because they were getting killed by Congress for not giving a heads up," one source told The Hill. The Times reported that Mattis had one day of advance notice before the announcement went out; he was vacationing in the Pacific Northwest at the time.
The Pentagon has taken the position that the tweet is not an order from the commander-in-chief, and it is still awaiting clarification. Gen. Joe Dunford (USMC), the chairman of the Joint Chiefs of Staff, told the services in a memo that there would be no modifications to policy "until the President's direction has been received by the Secretary of Defense." He added that in the interim, the military will "treat all of our personnel with respect."
Gen. Martin Dempsey and Adm. Mike Mullen, former chairmen of the Joint Chiefs of Staff, have joined 54 other retired generals in signing a letter protesting Trump's decision. A recent Reuters poll found that a majority of Americans support the inclusion of transgender servicemembers, 58 percent in favor to 27 percent opposed, with opinion split along party lines.