World's Largest Offshore Wind Farm Green Lighted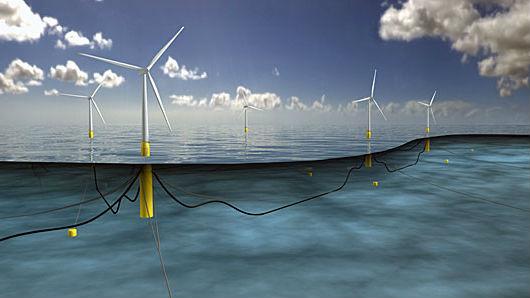 Scotland has granted Norwegian oil and gas major Statoil a license to build the U.K.'s first floating offshore wind farm. The development will be known as Hywind and is based on the Hywind demo prototype. The project will be the world's largest offshore wind farm.
Construction is set to begin in 2017. Electricity generated from the floating wind turbines would send electricity about 15 miles through a subsea cable to a pilot facility in Peterhead, which is on Scotland's northeast coast.
The Hywind development is the latest in a long line of offshore wind projects that have made Europe the global leader in offshore wind production. Traditional offshore farms are fixed to the seabed, but the floating turbines will be anchored using a three-point mooring spread and anchoring system. This anchoring system makes Hywind cheaper and easier to install in deepwater sites.
Based on technologies from the oil and gas industry, Hywind has been designed for deep, rough waters. The floating Hywind structure consists of a slender steel cylinder filled with a ballast of water and rocks, holding a wind-turbine on top.
At full capacity, Hywind will generate about 135 megawatts of electricity and power nearly 20,000 households.
Statoil's executive vice president for New Energy Solutions Irene Rummelhoff said: "Floating wind represents a new, significant and increasingly competitive renewable energy source. Statoil's objective with developing this pilot park is to demonstrate a commercial, utility-scale floating wind solution, to further increase the global market potential.