World's First Autonomous Ferry Set to Begin Service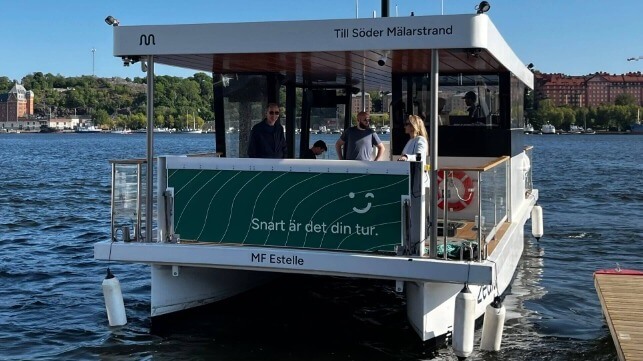 The ferry company Torghaen and the Norwegian technology company Zeabuz christened the world's first operating autonomous ferry, MF Estelle. The vessel will soon begin commercial service for passengers on a short route in Stockholm, Sweden.
The 25-passenger will have an operator on board at first. However, the ultimate goal is for the ferry to become fully self-driving, monitored from the shore. MF Estelle's regular operations are scheduled to begin on Monday. Inially, the ferry will operate four trips per hour, gradually increasing to eight per hour for 15 hours a day.
"Estelle is a sustainable and green pioneer, offering a solution to traffic congeson and inspiring alternave modes of transportation. With its electric, self-driving capabilies and advanced digital security, Estelle sets the stage for future advancements in the industry," said Stein Andre Herigstad-Olsen, CEO of Torghaen AS.
Zeabuz envisions the use of its technology in cities around the world, creating a "network of virtual bridges" with autonomous electric ferries.
"Our collaboration with Torghaen seeks to connect communities affordably and sustainably, not only in Stockholm but in the large number of cities with navigable waters worldwide," said Erik Dyrkoren, CEO of Zeabuz. "The launch of this service marks a significant step towards realizing this vision."
Zeabuz was founded in 2019 as a spin-off of the Norwegian University of Science and Technology's research centre for autonomous marine operations and systems. Zeabuz also recently teamed up with Singaporean Yinson Green Tech, planning to boost the safety and efficiency of their new fleet of electric harbor crafts.
"Safety always comes first, and with the full range of autonomy levels, we are confident this will be of great value to maritime operators. The ambition is a leaner operation with smarter technology. In Stockholm, we will prove that this technology is mature and ready", said Dr. Øyvind Smogeli, CTO & Co-founder of Zeabuz.