Wilhelmsen and Thyssenkrupp Set Up 3D-Printed Parts Business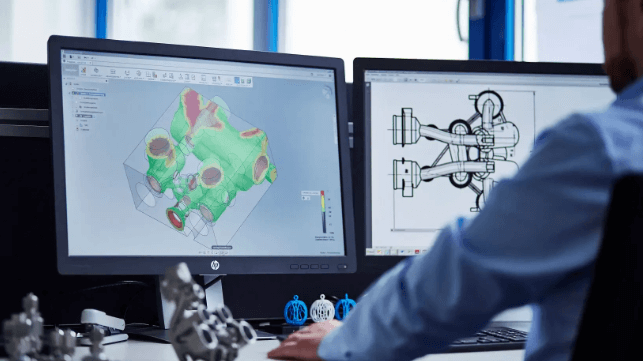 German industrial conglomerate Thyssenkrupp and shipping supplier Wilhelmsen have founded a joint venture to provide 3D-printed parts for the maritime industry. The companies will create a digital platform for part designs, then manufacture the parts locally at sites around the world, minimizing delivery miles and lead times for the shipowner when spares are needed.
"The global economy relies on resilient and flexible supply chains. The dynamic market environment has shown us this again and again, at least since Corona," says Ilse Henne, Chief Transformation Officer of Thyssenkrupp Materials Services. "In our partnership with Wilhelmsen, we are showing how we can maintain the operation of ships and secure the flow of goods in shipping."
Thyssenkrupp has deep experience in additive manufacturing (3D printing) and maintains two centers of technical expertise in Singapore and Germany, spanning the eastern and western hemispheres. The German industrial conglomerate also contributes the capabilities of its distribution and service division.
The Thyssenkrupp-developed Pelagus 3D platform will provide the digital backbone of the project. Through the platform, customers, ship managers and OEMs will be able to access a global network of providers who specialize in 3D printing (along with other manufacturing methods). This network covers printing in any materials, including metals, according to the partners.
Ownership of Pelagus 3D will be split evenly between the companies, and it will be headed by Thyssenkrupp's 3D printing head in Singapore, with Wilhelmsen executives on the venture's supervisory board.
In 2019, Thyssenkrupp's additive manufacturing division became the world's first maker of 3D printed maritime parts to win manufacturer approval from DNV GL. According to Dr. Luis Alejandro Orellano, then-COO of submarine maker Thyssenkrupp Marine Systems, the German conglomerate has used its internal 3D-printing expertise in its naval shipbuilding business.