Wilhelmsen and Airbus Trial Drone Deliveries to Singapore Anchorage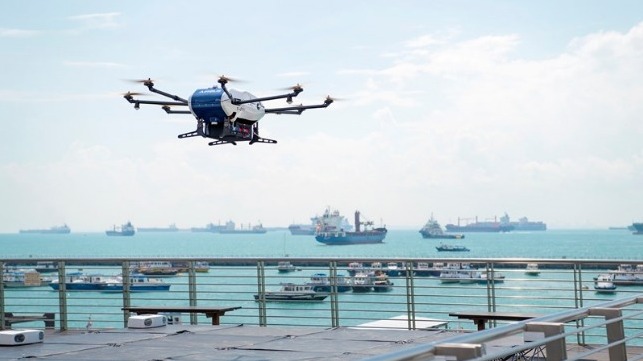 Wilhelmsen Ship Service and Airbus completed a trial shore-to-ship drone deployment to a vessel at anchor in Singapore last week.
Lifting off from Marina South Pier in Singapore with 3D printed consumables from Wilhelmsen's onshore 3D printing micro-factory, the Airbus Skyways drone navigated autonomously along pre-determined aerial corridors in its 1.5 kilometer flight to Eastern Working Anchorage. The drone landed on the deck of the Swire Pacific Offshore anchor handling tug supply vessel, M/V Pacific Centurion and deposited its 1.5 kilogram cargo. The delivery, from take-off to landing back at base, took 10 minutes.
Though small drone delivery trials from tugboat to ship have been conducted before by a number of shipping companies and service providers, shore-to-ship delivery of this range and scope has never been explored, prior to this trial.
Less labor dependent than delivery via launch, autonomous drones can potentially reduce delivery costs by up to 90 percent in some ports and have a smaller carbon footprint than launch boats, says Wilhelmsen.
The ongoing pilot trial will for now, focus on offshore supply vessels at anchorage 1.5 kilometers from the pier. The flight range will gradually be extended to as far as three kilometers from the shore.
A number of customers have already committed to the project including, Optimum Marine Management, Fleet Management, Zeaborn Ship Management, Pola East, SK Shipping, and sister company Wilhelmsen Ship Management.