Video: Product Tanker Stuck Under Kobe, Japan Bridge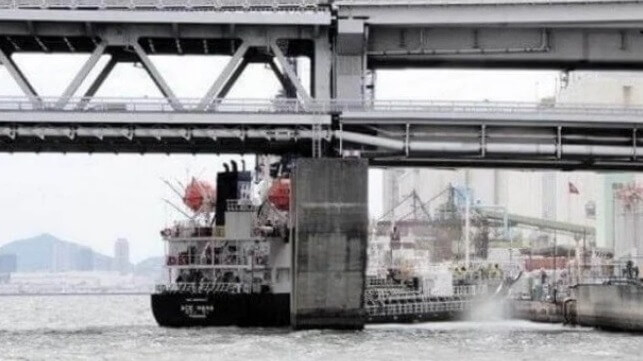 [Brief] A South Korean-owned product tanker arriving in Kobe, Japan yesterday, May 18, became stuck under one of the city's bridges requiring assistance from local tugs. The Kobe Office of the Japan Coast Guard reports it will be investigating reporting that there was a "fresh breeze" blowing but weather conditions were considered to be fine at the time of the incident.
The Ace Hana (1,787 dwt) operated by Hana Marine of Korea and registered in Panama departed Ulsan, South Korea on May 16 and was arriving in Kobe early yesterday afternoon. Weather reports indicate the wind was blowing at approximately 20 mph which on the scale is considered to be a "fresh breeze." The sea height was under two feet in the harbor area.
An eyewitness told a local reporter that there was no loud sound and they did not hear the accident only noticing it when they looked in that direction. The stern of the 226-foot long tanker became wedged up against the pillars of the Rokko Ohashi Bridge and the pictures show the bow swinging toward the harbor wall rendering it impossible for the vessel to navigate. The incident was reported to the Kobe Coast Guard which sent two tugs to the scene.
After approximately two hours, the tugs were able to free the tanker from the bridge and move it to a nearby wharf for inspection. The Coast Guard is indicating that none of the 14 crew aboard were injured and there was no oil spill or pollution. However, the vessel suffered unspecified damages as well as some damage to the concrete pillars of the bridge. Traffic on the bridge, however, has not been suspended.