Video: Cargo Ship Catches Fire off Luzon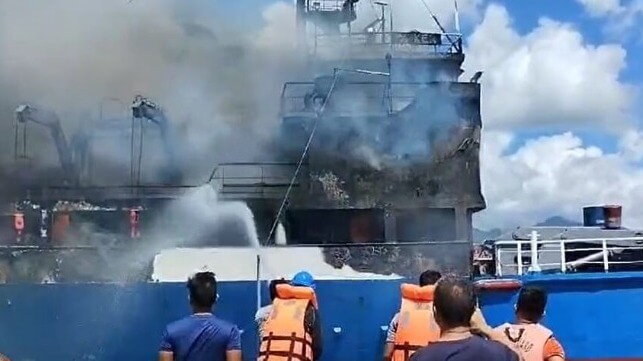 On Thursday, a cargo ship caught fire off the coast of Castilla, a municipality at the far southeastern tip of Luzon, prompting a large-scale response.
At about 1100 hours, the Philippine Coast Guard received notice that the freighter Ken had caught fire off Barangay Poblacion, Castilla. The ship was anchored at the roadstead in Sorgoson Bay, just off the port.
In response, the PCG coordinated with local firefighters and dispatched a patrol vessel to the scene. The Philippine Navy vessel BRP Federico Martir (PC-385) arrived on scene, and the crew used a fire hose to suppress the blaze in the vessel's deckhouse.
According to the crew, the fire started in the mess area. Video from the scene shows that it burned through the accommodations block and up through the wheelhouse.
Local firefighters declared the fire extinguished at about 1500 hours. No injuries or pollution were reported, and the ship's eight crewmembers were unharmed.