Video: Aerial Drones Refitted for Rescuing Swimmers
Drones are quickly gaining traction in the marine and offshore industries, primarily for video-recording tasks like inspecting rigs and surveying void spaces. Top drone maker DJI says that they are also moving into the realm of onshore and offshore search and rescue, especially in waterborne SAR operations.
On Wednesday, three different response agencies unknowingly set a record by conducting four drone-assisted rescues on the same day, DJI said, including three averted drownings. The successful SAR operations were captured on video, and they included the following:
- Public safety agencies in Hill County, Texas, dropped a life vest to a mother and her 15-year-old daughter who were stranded in a rising river and didn't know how to swim. "The stranded individuals had no swimming skills nor devices to keep them afloat with the water rising," said local sheriff's Chief Deputy Rick White, speaking to KWTX TV news. (Image below courtesy Hill County Emergency Management)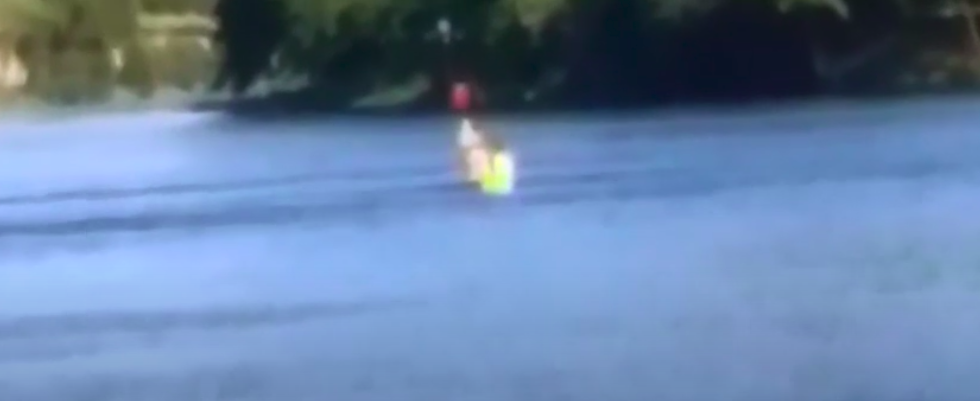 - Police in the UK used a drone with a thermal imaging camera to find a missing semiconscious man at the edge of a steep Exmouth cliff face. (Video courtesy Devon & Cornwall Police and Dorset Police below)
Here's the moment we found a high risk missing person on the cliffs at Exmouth within 8 minutes of being airborne. Saving his life and hours of searching on foot by multiple agencies.#DronesForGood #Drone #Police @DC_Police @dorsetpolice pic.twitter.com/VDdEONFeem

— Alliance Pol Drones (@PoliceDrones) June 6, 2018
- An Indiana fire department dropped a life vest to a criminal suspect who had fled into a pond and was struggling to stay afloat. (Video courtesy Wayne Township Fire Department below)
2577 Kentucky Avenue, one person in the water after fleeing police. Fire Department #UAV 82(Drone) deployed life vest. @IFD_NEWS Dive Rescue Team deployed a boat with @IMPDnews to make pull the individual from the water. pic.twitter.com/aN7hQutfiC

— Wayne Twp Fire Dept (@Waynetwpfire) May 31, 2018
Lifesaving drones offshore
Earlier this year, Australian lifeguards conducted a drone-assisted rescue that illustrates the potential of this technology in the surf zone. On January 18, two teenage swimmers ran into difficulty in a rip current off a beach near Brisbane, Australia. They were well off shore, and the lifeguards deployed a drone to find and assist them.
Within minutes of launch, the drone pilot was able to locate the victims and drop an inflatable rescue pod, which helped the individuals to stay afloat. "I was able to launch [the drone], fly it to the location, and drop the pod all in about one to two minutes. On a normal day that would have taken our lifeguards a few minutes longer to reach the members of the public," said lifesaver Jai Sheridan. The drones were originally deployed to spot sharks for research, but their secondary function as rescue devices is proving to be useful, according to Dr Natalie Moltschaniwskyj of New South Wales' Dept. of Primary Industries.
Drones specifically designed for lifesaving are already on the market, including the French-made "Helper," which is built around a life float delivery system and a high-definition camera. French oil major Total is examining two use cases for Helper for its offshore drilling and production operations. The first is the delivery of a lifesaving inflatable buoy in the event of a man-overboard, and the second is the carriage of emergency medical supplies from the rig to a nearby vessel (video below).
Code name: @HelperDrone, mission: test Total?s marine emergency response system. Watch the video to find out how #drones are saving lives at sea. pic.twitter.com/AWvetR0Z4s

— Total Campus (@TotalCampus) May 31, 2018