USS Ward Wreck Found in Philippines
USS Ward, the U.S. Navy destroyer that fired the first American shot in World War II, has been discovered in Ormoc Bay in the Philippines.
On December 1, 2017, the expedition crew of Microsoft co-founder and philanthropist Paul G. Allen's research vessel R/V Petrel sent its ROV to explore and document the remains of the vessel.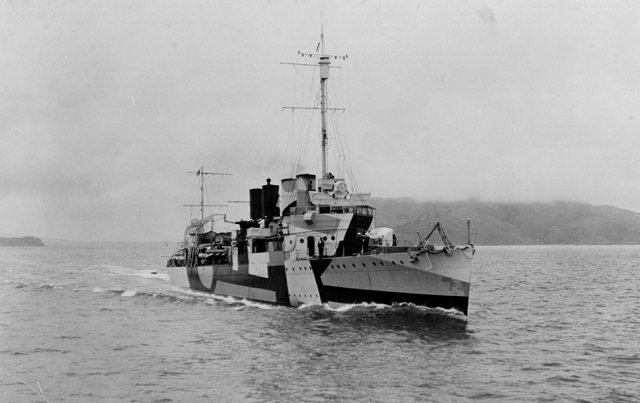 The USS Ward, a Wickes-class destroyer serving the U.S. Navy, had been patrolling the Pearl Harbor entrance on the morning of December 7, 1941, when the Officer-of-the-Deck spotted an 80-foot-long, midget submarine, trailing the USS Antares into the harbor. The USS Ward accelerated to bear down on the submarine. Just three minutes after first sight of the submarine, the USS Ward fired the first American shot in World War II.
The submarine the crew sank was one of five top secret Japanese vessels, each armed with two torpedoes that intended to penetrate the harbor under cover of darkness before the attack began. The enemy air attack on Pearl Harbor, and throughout Oahu, started about an hour after the USS Ward sank the midget submarine.
On December 7, 1944, three years to the day, the USS Ward was lost after coming under attack by several kamikazes. She had been patrolling Ormoc Bay off the island of Leyte, serving as a high-speed transport for troops. She was hit at the waterline amidships by one of the attacking kamikaze. Unable to extinguish the resulting fire that was now consuming the ship, the crew was ordered to abandon ship.
She was soon scuttled by an accompanying ship, the USS O'Brien. Poetically, O'Brien's commanding officer was Lt. Cmdr. William Outerbridge, who had been in command of the USS Ward during the attack on Pearl Harbor three years earlier. Only one USS Ward crew member was injured throughout the day's events.
The survey of the USS Ward was part of a combined mission to document the Imperial Japanese Warships that were lost during the Battle of Surigao Strait in the Philippines. During the November expedition, the R/V Petrel was able to capture video of IJN Yamashiro (FUSO class dreadnought battleship), IJN Fuso (FUSO class dreadnought battleship), Yamagumo (Asashio class destroyer), Asagumo (Asashio class destroyer) and Michishio(Asashio class destroyer). These ships and more than 4,000 men were lost during a decisive battle on October 25, 1944, considered the largest naval battle in history.
Allen-led expeditions have also resulted in the discovery of the USS Indianapolis (August 2017), Japanese battleship Musashi (March 2015) and the Italian World War II destroyer Artigliere (March 2017). His team was also responsible for retrieving and restoring the ship's bell from the HMS Hood for presentation to the British Navy in honor of its heroic service.