USS Fitzgerald CO Pleads Not Guilty to Negligence Charges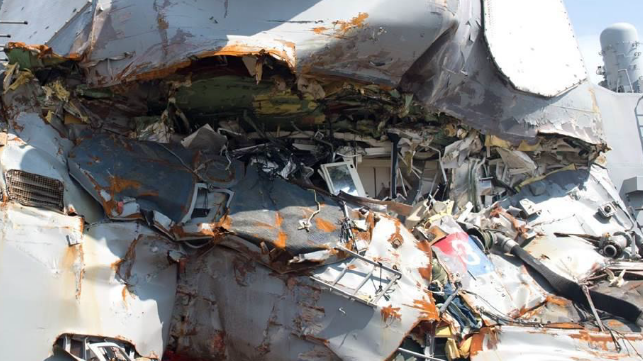 Cmdr. Bryce Benson, the former commanding officer of the destroyer USS Fitzgerald, has pled not guilty to two counts of negligence and one count of hazarding a vessel in connection with the Fitzgerald's deadly collision with a merchant vessel last year. Cmdr. Benson originally faced additional charges of negligent homicide, but Navy prosecutors decided to pursue only three lesser charges.
The USS Fitzgerald collided with the container ship ACX Crystal in the early hours of June 17, 2017, at a position about 50 nm south of Yokosuka. Cmdr. Benson was in his stateroom at the time of the collision, and the impact tore open the exterior bulkhead of the compartment. His shipmates had to break down his stateroom door and clear a path through the debris to reach him, and they found him hanging outside of the vessel. According to Seventh Fleet, "the rescue team tied themselves together with a belt in order to create a makeshift harness" to reach him. The commander was injured, and he was medevaced to U.S. Naval Hospital Yokosuka by a Japan Maritime Self-Defense Force helicopter for treatment shortly after his rescue.
A Navy investigation determined that watchstanders aboard Fitzgerald bore significant responsibility for the accident, which resulted in the deaths of seven crewmembers in the destroyer's berthing areas. "The collision was avoidable and both ships demonstrated poor seamanship. Within Fitzgerald, flawed watch stander teamwork and inadequate leadership contributed to the collision," Seventh Fleet said in an initial "line of duty" report. A later high-level review also determined that a series of systemic factors - a high volume of operational tasking requests, undermanning, skipped trainings and an excessive acceptance of risk - contributed to the odds of an accident at Seventh Fleet.
Several of Cmdr. Benson's colleagues have pursued plea agreements in related cases. Lt.j.g. Sarah Coppock, the officer of the deck aboard USS Fitzgerald at the time of the vessel's collision, pled guilty to dereliction of duty and was sentenced to a letter of reprimand and the forfeiture of half of her pay for three months. Navy prosecutors commended her for her cooperation with the investigation. Cmdr. Alfredo J. Sanchez, the former commander of the USS John S. McCain, pled guilty to one charge of negligence in May, and was sentenced to a forfeiture of pay and a letter of reprimand. The USS McCain was also involved in a collision with a merchant vessel last year, and 10 members of her crew perished in the accident.