USNS Comfort Provides Medical Care for Venezuelan Refugees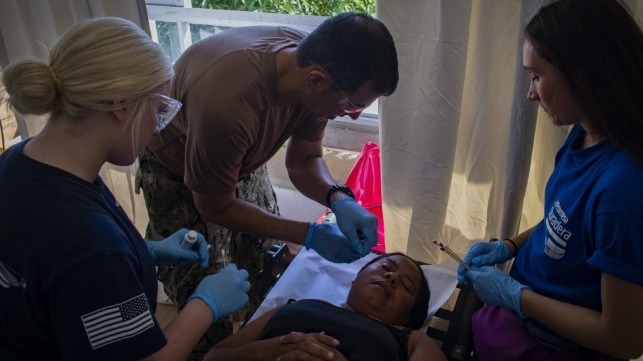 Medical personnel from the hospital ship USNS Comfort have gone ashore at Riohacha, Colombia to provide assistance for Venezuelan refugees and Colombian citizens. Screenings began on November 24, and the mission's two shoreside locations will continue operations for several more days.
"Our mission here is to promote peace, security and stability throughout the Americas by strengthening our partnerships with the nations of South and Central America," said Capt. William Shafley, commander of the medical task force. "Comfort's presence here represents an enduring promise of friendship, partnership and solidarity with Colombia."
Riohacha is near the border between Colombia and Venezuela, and the Comfort has anchored there in order to help Colombia's health care system assist a growing population of Venezuelan refugees. About one million Venezuelan nationals have fled to Colombia in recent years, driven across the border by rampant inflation, mass unemployment and shortages of food. Two million more have fled to other nations, including nearby Latin American countries, and thousands of additional people emigrate from Venezuela daily as its economic system continues to unwind.
USNS Comfort anchored off Turbo, Colombia (USN)
At her previous stop, off Turbo, Colombia, the Comfort's staff treated over 5,400 patients over the course of five days, including Venezuelan and Colombian nationals. An estimated 2,500 more will be provided with services during her call at Riohacha.
This is the sixth time that Comfort has deployed to Latin America, and the fifth time that she has visited Colombia. Past missions have provided medical treatment to more than 390,000 patients, including 6,000 surgeries.
When Comfort returns from her mission, she will undergo a maintenance availability at Detyens Shipyard in North Charleston, South Carolina. According to the Navy, the contract covers general steel and piping repairs, air conditioning plant installation, air conditioning plant maintenance, steam driven fire pump turbine inspection, bilge and ballast segregation, lifeboat and life raft davit falls replacement, among other tasks.