During the first half of 2016, U.S. gross crude oil imports increased by 528,000 barrels per day (b/d), or seven percent, compared to the first half of 2015. The increase reverses a multiyear trend of decreasing U.S. crude oil imports as a result of increasing U.S. production.
East coast crude oil imports were up the most, rising by 244,000 b/d (41 percent) compared with the first half of 2015. Crude imports increased in all other regions except the Rocky Mountain region.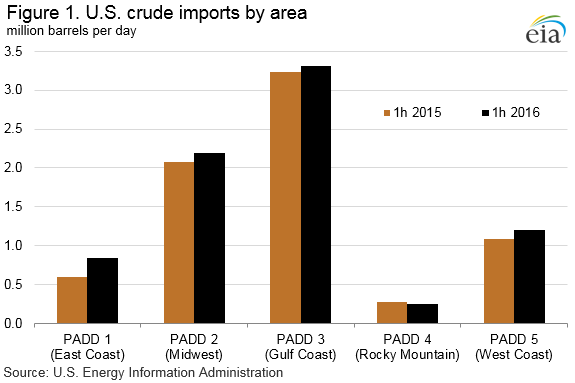 On a national basis, shipments from Nigeria, Iraq, and Canada contributed most to increased imports. Imports from Nigeria, Iraq, and other OPEC members by 504,000 b/d. Declining imports from Mexico, which fell 118,000 b/d, more than offset the increase in imports from Canada, limiting the overall increase of non-OPEC imports to less than 24,000 b/d.
Changes in crude oil price spreads, which may have been influenced by the lifting of U.S. export restrictions on crude oil in December 2015 were a significant factor in the rise of U.S. imports during the first half of 2016. The narrowing differences between certain U.S. crudes and international benchmarks provided an incentive for increased imports by refiners in areas where imported crudes now had a delivered cost advantage relative to domestic crudes of comparable quality.
Additionally, lower overall crude prices contributed to a decline in U.S. crude production from an average of 9.5 million b/d in the first half of 2015 to 9.0 million b/d in the first half of 2016, resulting in higher net crude oil imports.
Another factor affecting U.S. crude imports is a continued shift in crude oil logistics. The North Dakota Pipeline Authority reports that pipelines continued displacing rail in transporting Bakken crude, rising from a market share of roughly 35 percent at the beginning of 2015 to nearly 57 percent by June 2016, with rail inversely declining from roughly 60 percent to about 30 percent. Unlike crude by rail movements, which primarily transport Bakken crude to the East and West Coasts, pipelines primarily transport Bakken crude to refineries in the Midwest and Gulf Coast.
Pipeline transportation is significantly less expensive than rail. As a result, logistical constraints and costs that had previously depressed wellhead crude prices were alleviated, reducing downward price pressure that had previously made Bakken crude especially attractive for certain refiners, particularly on the East Coast.
In contrast to Bakken, competing light-sweet African barrels are taking advantage of an oil tanker glut that has pushed shipping rates near all-time lows, improving their price competiveness.
In addition to falling domestic production and a relative decline in the competitiveness of midcontinent crude, U.S. refinery demand rose by 133,000 b/d, creating further opportunities for imports.
In the Midwest, crude imports rose by 104,000 b/d (five percent) during the first half of 2016 compared with the same time last year. Canada accounted for almost all of the increase despite wildfires in Alberta that disrupted production later in the second quarter. Canada is the largest source of crude oil imported into the United States and its heavy crude is particularly well suited for U.S. refiners in the Midwest and Gulf Coast.
Gulf Coast imports increased 88,000 b/d (three percent), with rising imports from Middle East and African countries offsetting declines from Latin America. Imports from Iraq increased by 142,000 b/d, more than the next four countries combined. Iraq's production in 2015 rose by 700,000 b/d, enabling more of their production to be exported to the United States.
The Rocky Mountain region is the only region with declining imports during the first half of 2016, with volumes down by 24,000 b/d (nine percent). The region is relatively isolated from import infrastructure compared with other regions, and imports have been entirely sourced from Canada for more than a decade, a trend that continued during the first half of 2016.
Imports to the West Coast rose by 116,000 b/d (11 percent). Saudi Arabia, Canada, and Ecuador are the top three sources of the region's crude imports, accounting for about two-thirds of crude oil imports into the region and about 86 percent of the region's import growth during the first half of 2016.