The Coast Guard and the Navy are assisting with relief efforts in the U.S. Virgin Islands, which were hit hard by Hurricane Irma's wind and rain.
Coastguardsmen from the cutters Joseph Napier, Heriberto Hernandez and Donald Horsley have been providing transportation for first responders to St. Thomas, the most affected of the islands. A Coast Guard ATON team has been working on resetting St. Thomas' buoys so that navigation can safely resume (below).
Video of @USCG ATON team provides assistance to #StThomas, #USVirginIslands for #Irma response. Find out more https://t.co/XEi89qlPA6 pic.twitter.com/k3ezD3ntdY

— USCGSoutheast (@USCGSoutheast) September 12, 2017
The Coast Guard also issued a general reminder to boaters and mariners in Puerto Rico and the USVI to abide by maritime laws. The service did not elaborate, but a massive private boatlift is under way to ferry supplies to the islands and evacuate residents. A shortage of food and reports of armed looters have made many citizens of St. Thomas anxious to leave, but the island's airport is closed until at least September 16.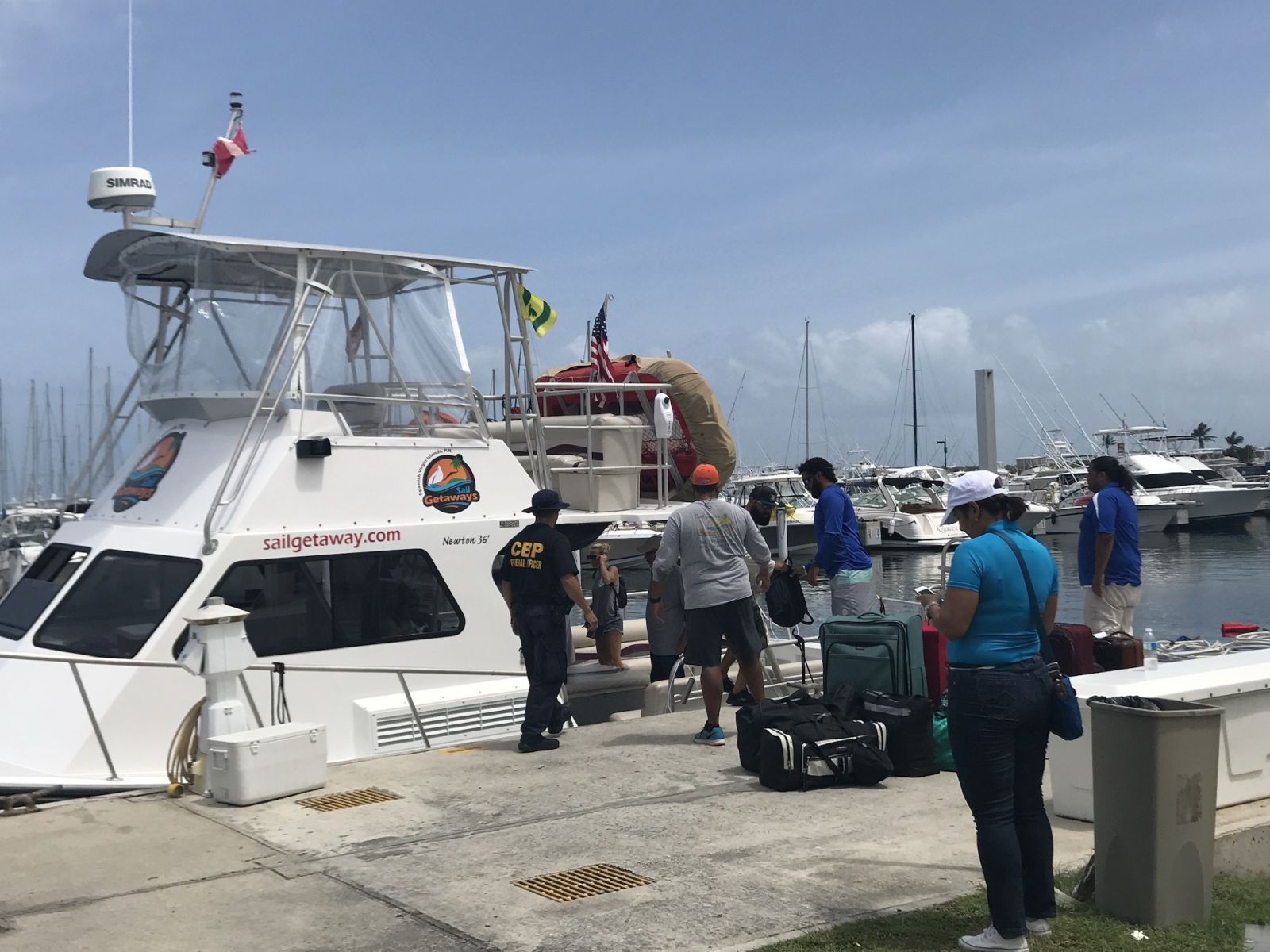 St. Thomas boatlift evacuees (USCG)
"We're hearing rumors that people are posing as police officers and robbing people. We spoke with [a] nurse who was robbed at machete-point a few days ago," said St. Thomas resident Jennifer Stephens Cooper, speaking to CNN. "We're terrified. It's a desperate situation. When people run out of water and food, tempers flare. It's just going to get worse."
The Department of Defense is responding, and it says that it now has 10,000 personnel in the Virgin Islands and Puerto Rico. Nine naval vessels are conducting relief operations. The USS Kearsarge and the embarked 26th Marine Expeditionary Unit are among these forces, and their personnel are ferrying relief supplies to those in need on St. Thomas (video top).
Two cruise lines are also contributing to the relief effort by diverting vessels to help evacuate St. Thomas. NCL's Norwegian Sky and Royal Caribbean's Majesty of the Seas were dispatched to bring home the thousands of tourists who were trapped when the hurricane struck.
Separately, Marriott chartered an 1,800-passenger ferry to evacuate the guests of its St. Thomas resort just after Irma passed. The vessel departed St. Thomas on Friday in advance of Hurricane Jose, and it allegedly left three dozen non-Marriott tourists stranded on the pier when it sailed. Marriott said in a statement that it was unable to accommodate the additional tourists because port security prohibited it. "We very much wanted to assist these other travelers to Puerto Rico, however, the Marriott team on-the-ground was told they had no authorization to board additional passengers who were not on the approved manifest. This was enforced by dock security," the hotel chain said.
One of those left behind, cameraman Cody Howard, told the Washington Post that it was the other way around – that port officials wanted the extra tourists to board, but the ship's crew forbid it. "It was really hard to see people with kids and elderly people who don't have anywhere to stay get turned away by this boat . . . For some people, that was the only [glimmer] of hope," he said.