Union Pacific Warns of Tariffs' Effects on Shipping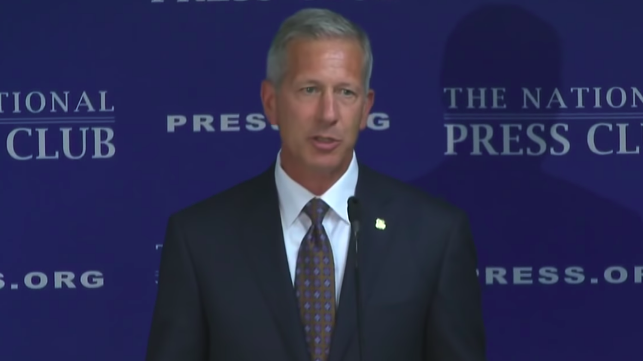 In an address at a National Press Club luncheon on Thursday, Union Pacific Railroad CEO Lance Fritz warned that the Trump administration's wide-ranging tariffs are causing delays to shipping, confusion for importers and price hikes for consumers and businesses. He praised the recent round of federal tax cuts as a stimulus for investment activity, but cautioned that "a growing list of tariffs and trade tensions with trade partners threaten to undo much of that progress."
"One of our key hubs that we serve is the Port of Long Beach, California, and because of new [tariffs], over the last few weeks . . . a ship has been sitting outside of the port with a shipment of steel that would ordinarily land at the port and we'd ship it inland to our customer," Fritz said. "The reason why it's been sitting offshore is that there's a dispute over who's going to pay the tariff."
"We see it in our own consumption of steel. We buy a portion of our rail . . . from Japan. It's premium steel that's built to a dimension that we have a hard time finding in the United States. Our first shipment of that steel post-tariff happened in May, and the boat sat in San Francisco's harbor for four weeks while there was a dispute over who was going to pay the tariff, which was six million dollars for that boat," he added.
Fritz also pointed to the impact of China's retaliatory tariffs on American soybean farmers, which come at a time of historically low prices for the commodity, and the effects of tariffs on Canadian lumber. Those tariffs have raised the cost of lumber from Western Canada by about 40 percent, adding about $9,000 in additional material expenses for an average single-family home.
Fritz called on the administration to focus its efforts on winning fair trade with China, not raising barriers to trade with allies like Japan, Canada and Mexico. "Let's stop picking fights with some of our trade partners, and let's focus our full attention and might on the issues at hand, which is fair and equitable trade investment with China," he said.
China pushes back on tariff announcement
On Thursday, China's Ministry of Commerce issued a long statement criticizing the Trump administration's proposed round of tariffs on an additional $200 billion in Chinese goods. The 1,300 word document accuses the White House of exaggerating the imbalance of trade, improperly blaming China for America's low savings rate and "differing" industrial competitiveness, launching a global trade war and maintaining a "cold war mentality."
"The tariffs are typical unilateralism, protectionism and trade bullying. They are a clear violation of the basic WTO principle of most-favored-nation treatment as well as the basic spirit and principles of international law," the Ministry wrote. President Trump has contemplated the possibility of withdrawing from the WTO, according to reporting by Axios.