UK MoD Censured for Fatal Shipboard Accident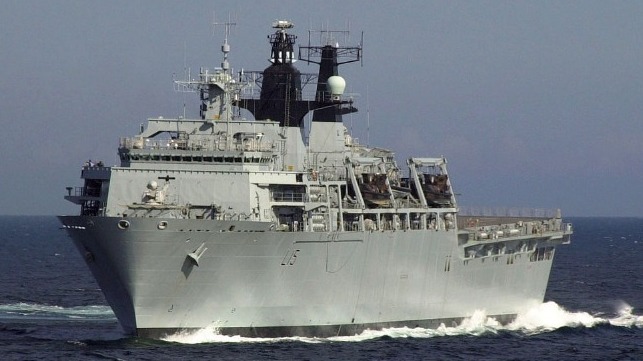 The UK Health and Safety Executive (HSE) has issued its highest penalty to the Ministry of Defence over the death of a technician aboard the amphib HMS Bulwark in June 2014.
Engineering technician Neal Edmonds, 41, suffered "crushing injuries" after his head and shoulders became trapped inside a lift shaft while the ship was docked in Devonport. The lift was used to carry food and catering supplies between decks; safety guidance said that personnel were not to enter the lift, but Edmonds appears to have accessed the shaft via a side panel in an attempt to make repairs.
HSE said that Edmonds' colleague operated the lift from a control room in order to send Edmonds up in the lift cage. As Edmonds traveled upwards in the lift, part of his body was extending out of the footprint of the cage. His body made contact with a switch arm which was attached to the inside of the lift shaft, and he suffered crushing injuries.
A toxicology report found that Edmonds had about 259mg of alcohol per 1000ml of blood, or about three times the legal limit for driving. HSE indicated that this may have impaired his motor functions.
"The method employed by [Edmonds] to access the lift was very far from complying with the Royal Navy standard of work for fault finding and repair of the lift. He was not authorised to carry out the work; he was not supervised; and there were no formal instructions to him to carry out the task," said HSE inspector Jonathan Harris in the 2015 report. In addition, two more senior ratings were involved in the repair activity and one of them saw Edmonds begin his ascent of the lift shaft, indicating that they were aware of the unauthorized repair methods.
"In this case both the Royal Navy and [Edmonds] had obligations under the Health and Safety at Work Act, as did all the other people involved," Harris said. HSE determined that the MoD did not ensure a safe system of work to control the risks associated with lift maintenance.
"The risks arising from maintenance operations are well known and suitable measures required to reduce these risks are understood," said HSE deputy director of field operations Jane Lassey. "Like any employer, the MoD has a responsibility to reduce dangers to its personnel, as far as they properly can, and in this case they failed Neal Edmonds."
HSE has issued MoD the highest available penalty, a Crown Censure. It carries no criminal or financial consequences, as MoD cannot be tried in court in the same manner as a private entity. MoD has acknowledged and accepted the censure, and HSE said in a statement that the defense agency has improved its policies and work practices over the years since the accident.