U.S. Wind Energy Prices Continue to Fall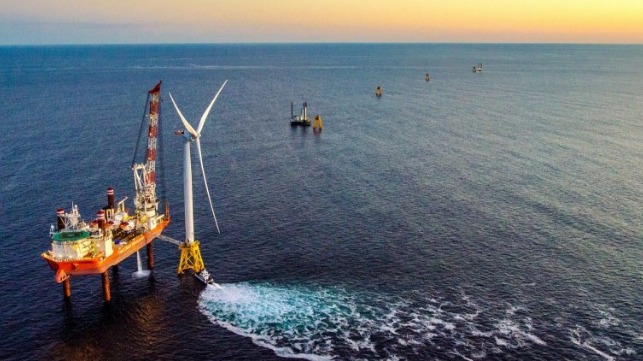 The U.S. Department of Energy (DOE) has released three wind energy market reports stating that as wind installations continue across the country and offshore wind projects move beyond the planning process, technology costs and wind energy prices continue to fall.
Over the past year, the industry has seen the U.S. distributed wind capacity exceed one gigawatt (GW). The 2017 Wind Technologies Market Report, prepared by DOE's Lawrence Berkeley National Laboratory, found that the U.S. wind industry installed 7,017 megawatts (MW) of capacity last year, bringing total utility-scale wind capacity to nearly 89GW. In total, 41 states operated utility-scale wind projects. Texas leads the nation with over 22GW of wind capacity, while Oklahoma, Iowa, California and Kansas have more than 5,000MW.
Bigger turbines with longer blades are enhancing wind plant performance. Wind projects built in the past few years have seen capacity factors increase by 79 percent compared to projects installed from 1998 to 2001. The average installed cost of wind projects in 2017 was $1,611 per kilowatt (kW), down 33 percent from the peak in 2009–2010.
The U.S. offshore wind market continues to evolve as state-level offshore wind deployment targets and procurement policies are introduced, projects advance in permitting and offtake processes, supply chain constraints are mitigated and R&D investments are made. Including the 30MW of installed capacity, the U.S. now has a project pipeline of 25,464MW of offshore wind. Developers have announced that roughly 2,000MW of new offshore wind capacity is expected to be operational by 2023. The U.S. pipeline continues to be led by projects along the U.S. eastern seaboard.
The 2017 Offshore Wind Technologies Market Update, prepared by DOE's National Renewable Energy Laboratory, found:
• The U.S. offshore wind industry recently took a leap forward as commercial-scale projects were competitively selected in Massachusetts (800MW), Rhode Island (400MW) and Connecticut (200MW).
• New York, New Jersey, and Maryland also have offshore wind projects in the development pipeline.
• The U.S. offshore wind project pipeline has reached a total of 25,464MW of capacity across 13 states, including the 30MW Block Island Wind Farm commissioned in 2016.
• New offshore wind turbines are being developed with 10–12 megawatts of capacity (compared to an average capacity of 2.3MW for land-based turbines and 5.3MW for offshore wind turbines installed in 2017). As a result, demand is increasing for specialized ships that will be able to install these very large turbines in U.S. waters.
• About 60 percent of the U.S. offshore wind resource lies in deep waters. Developing a project in deep waters requires wind turbines on floating foundations. In the U.S., floating offshore wind projects have been proposed off the coasts of Maine, California and Hawaii.