U.S. Takes Aim at Arctic LNG 2 in Latest Round of Sanctions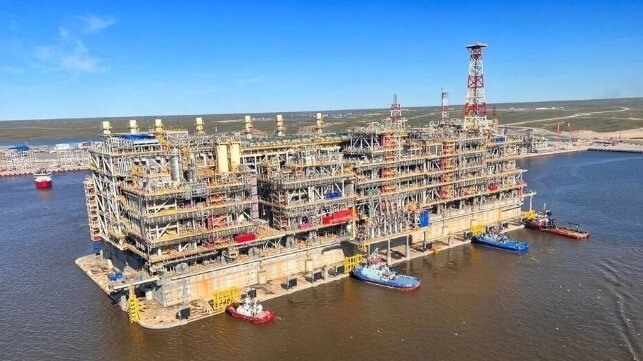 The U.S is aiming to cripple Russia's Arctic LNG 2 project, adding onto previous sanctions on entities involved in the high-profile venture.
In the latest round of sanctions related to Russia's invasion of Ukraine, the Department of State has designated 37 entities involved in expanding Russian energy exports. Arctic Transshipment, a Russian shipping company that will operate two LNG floating storage units (FSUs) to support the Arctic LNG 2 project, is among the targeted entities.
The company is central to the success of the project and is 90 percent owned by Novatek, Arctic LNG 2's developer. The giant storage units, the DSME-built Koryak FSU and Saam FSU, are designed to transfer LNG from Novatek's ice-class LNG carriers onto conventional LNG carriers. This will raise volume throughput and lower the cost for transporting Arctic LNG 2's exports.
The Arctic LNG 2 project is on track to commence first production later this year, with the two floating units already on site. The project, which is located in Gydan in Northern Russia, will produce 20 million tonnes of LNG annually and is on track to reach its full capacity by 2026.
Novatek is the majority shareholder of the project with a 60 percent stake. Other shareholders include CNOOC, CNPC, TotalEnergies, Mitsui Group and Jogmec.
The U.S. has also sanctioned JSC Energies and Nova Energies, which are providing engineering services to support the development of the project. Abu Dhabi-based Green Energy Solutions is also on the list for providing engineering services and technology, which were previously provided by European service companies.
While the U.S is determined to cripple the flagship LNG project, it is also going after Turkish firms that have worked with sanctioned Russian shipping companies. Denkar Ship Construction, a Turkiye-based ship repair company, has been sanctioned for providing ship repair services to three blocked vessels belonging to JSC Northern Shipping Company, while ID Ship Agency Trade has been slapped with sanctions for arranging ship repair services for a blocked vessel owned by Nord Project LLC.