U.S. Navy Tests Augmented Reality Tech for Training and Operations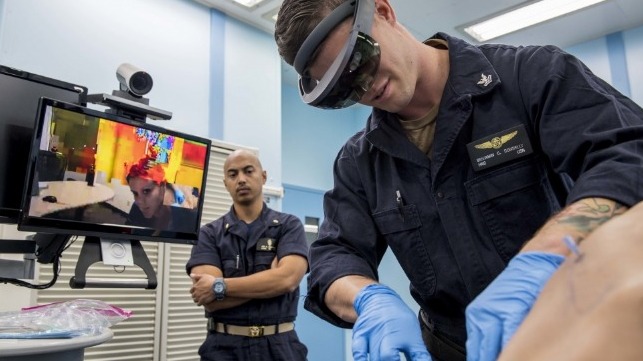 The U.S. Navy's classrooms are beginning to test augmented reality and virtual reality technology for training, and if the trial is successful, this advanced tech could eventually make its way to the deckplate level.
"Virtual reality training is well suited to training tasks that are dangerous, rarely performed or expensive to perform," says Philip Pitts, an AR/VR research specialist with the Naval Undersea Warfare Center, Division Keyport.
Pitts says that AR/VR lets trainees interact with entire systems on ships, submarines and aircraft, without the cost of building full-scale mock-ups. This could potentially save millions of dollars and help ensure the training material is up to date. Every single component of the vessel can be reproduced in a virtual world, allowing the user to do everything except touch the actual components.
AR/VR has strong potential for operations as well. If ruggedized, it could be used to guide bomb-disposal vehicles in the field, or to inform repair operations under way.
There are two obstacles, though: first, making the devices tough enough to withstand a seagoing or shipyard environment, and second, making the software secure enough to withstand hacking. AR/VR tools use wireless communication, which is easier to target than hardwired systems. "There's a hefty investment in making sure our systems can meet the cyber security requirements in the fleet," says Pitts.
U.S. Navy medical personnel have already tested augmented reality systems in the field for care delivery, training and remote guidance applications. In one underway test aboard the hospital ship USNS Mercy, a hospital corpsmen used AR goggles to relay a live-stream video of a simulated procedure to a doctor in San Diego. This telepresence system could allow experts on shore to provide training mentorship - or even real-life, real-time medical advice - while a naval vessel is at sea.