U.S. Navy Seeks to Postpone Shock Trials for USS Ford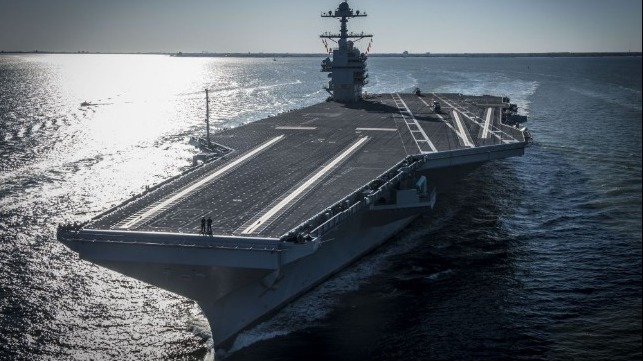 The U.S. Navy is seeking to postpone standard "shock trials" for the USS Gerald R. Ford, the first in a new class of advanced aircraft carriers, and has appealed to Secretary of Defense James Mattis for an effective six-year delay. The Navy would like to conduct the testing for the Ford class using sister ship USS John F. Kennedy, which will not be delivered until late 2024, reports Bloomberg.
The Ford contains multiple new technologies, including an electromagnetic launch system (EMALS), a new type of aircraft arrest system and a sophisticated radar package. These high-tech features - along with a series of delays and cost overruns - have already made her the most expensive vessel in history, with a build cost of $12.9 billion.
Robert Behler, the new head of testing for the Department of Defense, told Bloomberg that "we have to know if those systems continue to work in a combat environment." He cautions that the survivability of these systems is unknown until they go through full shock trials. In addition, Behler's office reported last month, these systems may still be unreliable under normal circumstances. "The poor or unknown reliability of these critical subsystems is the most significant risk to CVN 78. Based on current reliability estimates, CVN 78 is unlikely to be able to conduct the type of high-intensity flight operations expected during wartime," the Director of Testing & Evaluation wrote in his FY2017 report.
Shock trials - the intentional detonation of explosives underwater near the vessel - has been part of the Navy's evaluation of each new class of surface warfare vessels for decades. However, the Ford class would be the third new hull form in recent years for which the service attempted to alter the test program.
In July 2016, the Independence class littoral combat ship USS Jackson completed her shock trials, and the Navy announced that she performed well. However, Dr. Michael Gilmore, Behler's predecessor at the Pentagon, told Congress that shock tests for the Jackson topped out at half the standard strength due to concerns about harming her non-hardened systems. Some mission systems were also removed to further mitigate "potential equipment damage."
In addition, Gilmore wrote, the testing on the Freedom-class LCS USS Milwaukee was halted after two of three planned "shots" at the full standard strength. "The Navy viewed the third LCS 5 trial as not worthwhile because the Navy was concerned shocking the ship at the increased level of that trial would significantly damage substantial amounts of non-hardened equipment, as well as damage, potentially significantly, the limited amount of hardened equipment, thereby necessitating costly and lengthy repairs," Gilmore testified. "Neither shock trial resulted in catastrophic damage, yet both shock trials exposed critical shock deficiencies."