U.S. Navy Declares F-35C Fighter Ready for Service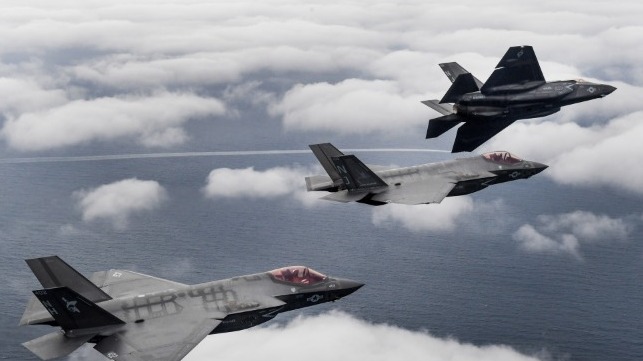 The U.S. Navy has declared that its $150 million next-generation strike fighter, the F-35C Lightning II, has reached initial operational capability (IOC). For official purposes, the designation means that the system is technologically mature, has a trained and equipped squadron, and is backed by all the support logistics required for service.
"The F-35C is ready for operations, ready for combat and ready to win," said the commander of Naval Air Forces, Vice Admiral DeWolfe Miller. "We are adding an incredible weapon system into the arsenal of our Carrier Strike Groups that significantly enhances the capability of the joint force."
With the IOC declaration, the Navy asserts that the F-35C platform has enough spare parts for maintenance - a proposition that the Government Accountability Office has questioned - and that the platform can deliver enough uptime for front-line service. According to the Pentagon's Director of Operational Test and Evaluation (DOT&E), the fleet-wide average availability for all three F-35 variants is below 60 percent, and well below the 80 percent target for the Initial Operational Test and Evaluation (IOT&E) phase.
The trend in availability has not changed over the past three years, despite initiatives for improvement, and maintenance costs are a serious concern. The Air Force has projected that it may need to cut back its acquisition program for the F-35A variant by one third in order to keep operating expenditures under control.
The Navy IOC also declares that the aircraft's complicated Autonomic Logistic Information System (ALIS) - a database program that tracks maintenance - is functional and ready. DOT&E reported early this year that ALIS' database contains a high quantity of incorrect or improperly inputted data, which results in aircraft being wrongly flagged as unready for flight - leading to missed missions and ad-hoc workarounds.
The Navy's first F-35C squadron, Strike Fighter Squadron VFA 147, recently completed aircraft carrier qualifications aboard USS Carl Vinson and received safe for flight certification. "We're very proud of what our Sailors have accomplished in the Joint Strike Fighter community," said Capt. Max McCoy, commodore of the U.S. Navy's Joint Strike Fighter Wing. "We will continue to learn and improve ways to maintain and sustain F-35C."
The F-35C squadron is now headed for its first trip abroad, according to Rear Admiral Dale Horan, the director of the F-35C Fleet Integration Office. "This accomplishment represents years of hard work on the part of the F-35 Joint Program Office and Naval Aviation Enterprise. Our focus has now shifted to applying lessons learned from this process to future squadron transitions, and preparing VFA-147 for their first overseas deployment," Rear Adm. Horan said.