U.S. Coast Guard Sets Up Anti-Illegal Fishing Center for Indo-Pacific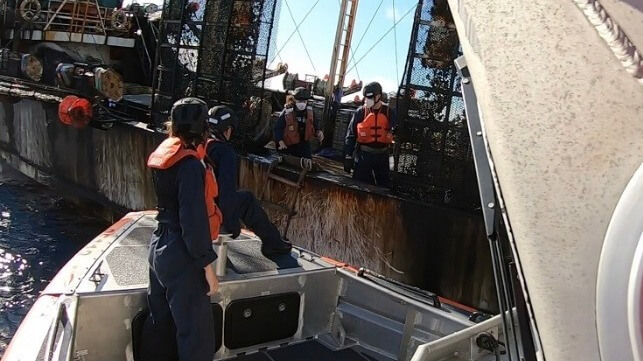 The U.S. Coast Guard has opened a dedicated unit on illegal, unreported and unregulated fishing in order to support the service's expanding consultation and assistance mission in the Western Pacific. The new Illegal Unreported Unregulated Fisheries Center of Expertise (IUUF COE) is based on Ford Island in Honolulu, where it will be well positioned to advise Coast Guard units and American allies in the far reaches of the Pacific.
The service has also set up a specialized environmental response unit (Marine Environmental Response Regional Activities Center, or MER RAC) to advise partner nations' response personnel and help them set up preparations for incidents in their own home waters.
"Today, there is greater demand for your Coast Guard than ever before," said Vice Adm. Andrew Tiongson, commander of Coast Guard Pacific Area. "These new detachments, strategically positioned here in Hawaii will fulfill exactly what the Indo-Pacific Strategy directs."
The IUU center will serve as the international engagements arm for combatting illegal fishing activities in the Indo-Pacific. The intent of the unit is to increase maritime domain awareness, exchange valuable information, increase interoperability, and share best practices.
The U.S. Coast Guard's counter-IUU effort provides the primary American presence in far-flung areas of the Second Island Chain, thanks to bilateral maritime law enforcement agreements with a dozen Pacific Island countries. Three small Fast Response Cutters stationed in Guam, USCGC Frederick Hatch, USCGC Myrtle Hazard, and USCGC Oliver Henry, have spearheaded efforts to help partner nations in the Pacific Islands to enforce their local laws and curb illegal fishing.
The Coast Guard has plans to increase its deployments in the Western Pacific, subject to funding. The increased activity in the region is conducted in coordination with U.S. Indo-Pacific Command and U.S. 7th Fleet, and it reflects the unified approach laid out in the "tri-service maritime strategy" of 2020. Then as now, countering China is the primary objective. In January, Deputy Commandant for Operations Policy Rear Adm. Michael Ryan told Defense One that the mission is to "better compete with Chinese influence" in the remote reaches of the Pacific.