U.S. Coast Guard Rescues Crew of Drifting Tug Off Maryland
On Saturday, the U.S. Coast Guard rescued seven crewmembers from a drifting tug about 30 miles off the coast of Ocean City, New Jersey.
At 0330 hours on Saturday morning, the crew of the St. Kitts-flagged tug Legacy (IMO 8227501) sent out a distress call to Coast Guard Sector Maryland-National Capital. The vessel was under way with a 290-foot deck barge, headed for Guyana, when she fouled her starboard propeller on her tow line. The crew attempted to regain the tow, but the line fouled the port propeller as well, leaving the tug adrift. The crew reported that they were preparing to abandon ship.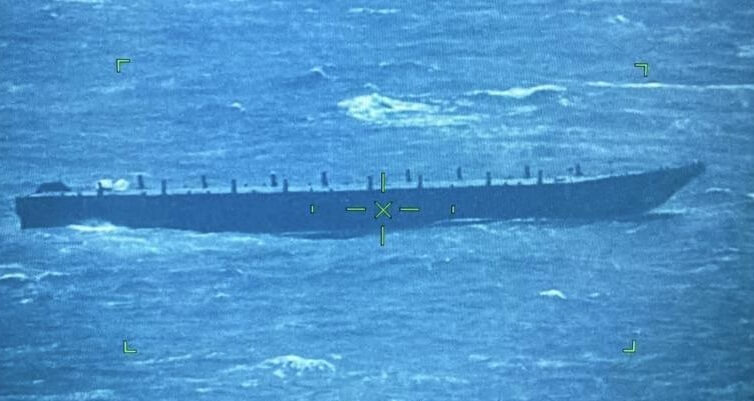 Image courtesy USCG
The cutter USCGC Lawrence Lawson diverted to the scene to assist the crew of the Legacy. However, the Lawson was unable to approach the tug because of rough surface conditions and the possibility that the line would foul her propellers as well. Instead, she stood by within reach while other assets responded to the scene.
Coast Guard Sector Maryland dispatched a Dolphin helicopter crew from Air Station Atlantic City and a Jayhawk aircrew from Coast Guard Air Station Elizabeth City to hoist the seven crewmembers from the vessel. After all were taken safely aboard, the air crews delivered them to Ocean City Municipal Airport in Maryland. No injuries were reported.
Before departing, the tug's crew activated their EPIRB so that the Coast Guard could easily track the tug and barge tow's drift. The Jayhawk crew also deployed a self-locating data marker buoy to augment the EPIRB signal. A commercial salvage response is expected.
Legacy (ex name Goliath) is a 1981-built twin-screw tug operated until last year by an American firm. She was recently renamed, reflagged and sold to a Guyanese marine services company.