U.S. Coast Guard Offloads $450 Million in Cocaine in Port Everglades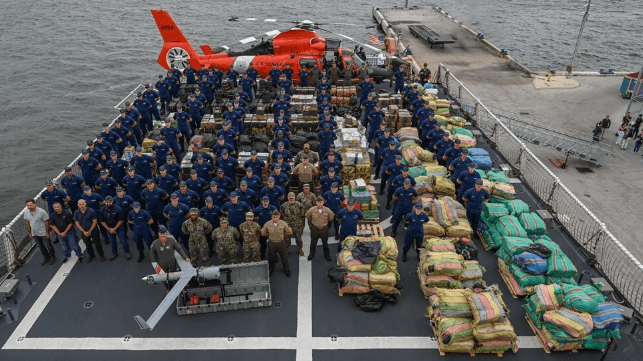 On Thursday, the U.S. Coast Guard cutter USCGC James offloaded nearly $450 million worth of seized cocaine onto a secure pier at Port Everglades - not to supply Miami's partygoers, but to destroy it.
James' crew delivered more than 33,000 pounds of cocaine, the product of 13 separate interdictions in the Eastern Pacific and the Caribbean. Four cutters and one U.S. Navy destroyer participated in the hunt, including USCGC James, Thetis, Vigilant, Valiant and USS Farragut.
Vigilant is a symbol of the Coast Guard's ability to do more with less: she ranks among the oldest operating military vessels in service today. The medium-endurance cutter was commissioned in 1964 and will celebrate her 60th year on duty next October.
"This offload is about national security," said Vice Adm. Kevin Lunday, commander U.S. Coast Guard Atlantic Area. "It represents one part of a very large and strong interagency team that works closely with our allies and international partners to interdict maritime smuggling of dangerous and illegal drugs."
Though Coast Guard boarding teams conduct all interdictions, the counternarcotics mission in U.S. Southern Command is a multiagency, multinational operation. Surveillance and intelligence are provided by most of the federal law enforcement agencies, as well as partner nations throughout the region. The UK, the Netherlands and Canada also contribute vessel assets on a regular basis.
"Our success hinges on our people. For the past 113 days, the women and men of James worked around the clock in support of the counter-narcotics mission," said Capt. Donald Terkanian, commanding officer of James. "That being said, we cannot do this mission alone. We appreciate the immense support and dedication from our interagency and international partners that join us here today."
In FY2019, the Coast Guard seized 208 metric tonnes of cocaine, more than any other agency. At current wholesale pricing, this would be worth $6 billion - enough to cover the payroll for all USCG military servicemembers in FY2024.